Style
Go Organic with Mama Lane's All Natural Products
If you need to refresh your skincare routine, look no further than Mama Lane's All Natural. The local company carries a wide variety of organic products.
By Morgan Carleton
Nov 2020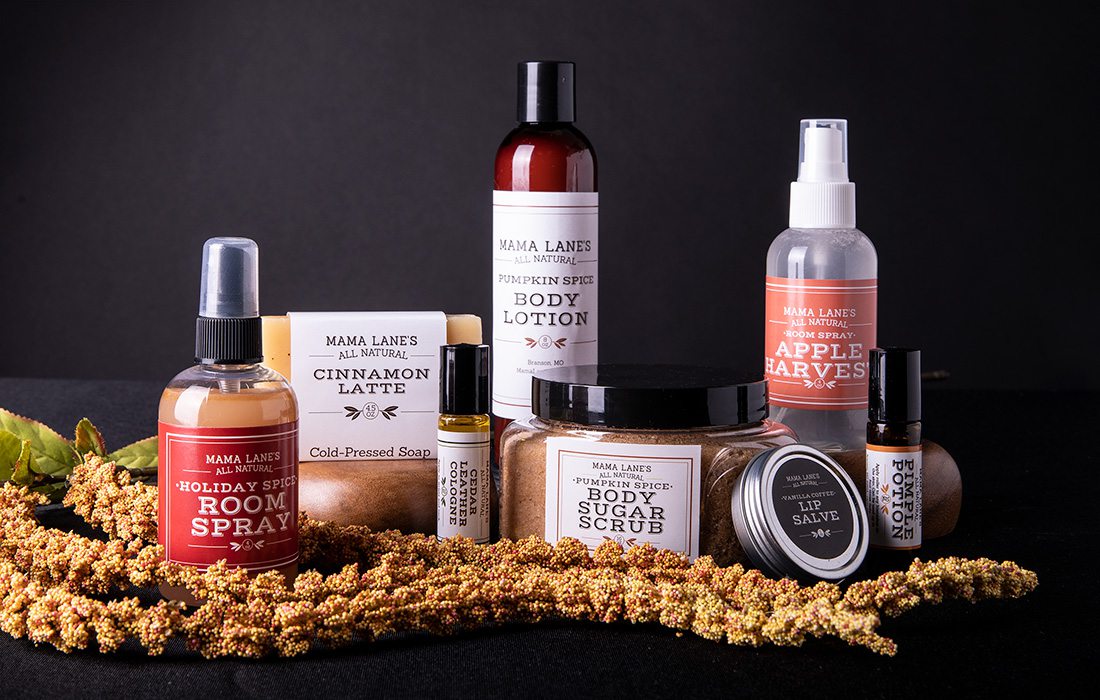 Mama Lane's All Natural got its start when Lane McConnell's great-grandmother passed down a recipe book of balms and salves. "I remember being a kid and watching my great-grandmother make these products in her kitchen," McConnell says. 
After McConnell had her own children in 2009, she decided she wanted to know what ingredients were in the products in their home which led her to using the hand-me-down recipe book to create her own. Soon she was making products for friends and family, which eventually led to founding her own business of all-natural health and beauty products in 2017. Based in Branson, Mama Lane's uses those family recipes and organic, ethically sourced ingredients to make more than 75 products. All products are homemade—McConnell strains the herbs and sticks the labels on herself. 
McConnell's product line includes kid-friendly lip balms, candles and room sprays, and a variety of skin-care products including a toner spray and a beard balm. In the future, McConnell plans to add more skincare products to her current six-piece line that was launched in 2019. Some are specifically catered towards customers with sensitive skin, like the sugar scrub. "I have very sensitive skin, and I am able to use our sugar scrub on my body and my face," McConnell says. "It's a great exfoliant."

Mama Lane's All Natural also has a year-round "Mommy" and "Baby" skincare line consisting of a "Mommy Survival Kit" that includes a diaper rash balm, nipple balm, calm balm and a vapor rub. Seasonally, you can find a holiday line of pumpkin spice sugar scrub and a holiday spice room spray.