Top Doctors
Springfield is Talking About Mental Health
It doesn't matter if you're in a hospital or a high school, figuring out how to provide better mental services is at the top of the to-do list. These three new programs and clinics are just a few examples of how Springfield is lending a helping hand.
By Ettie Berneking
Jul 2019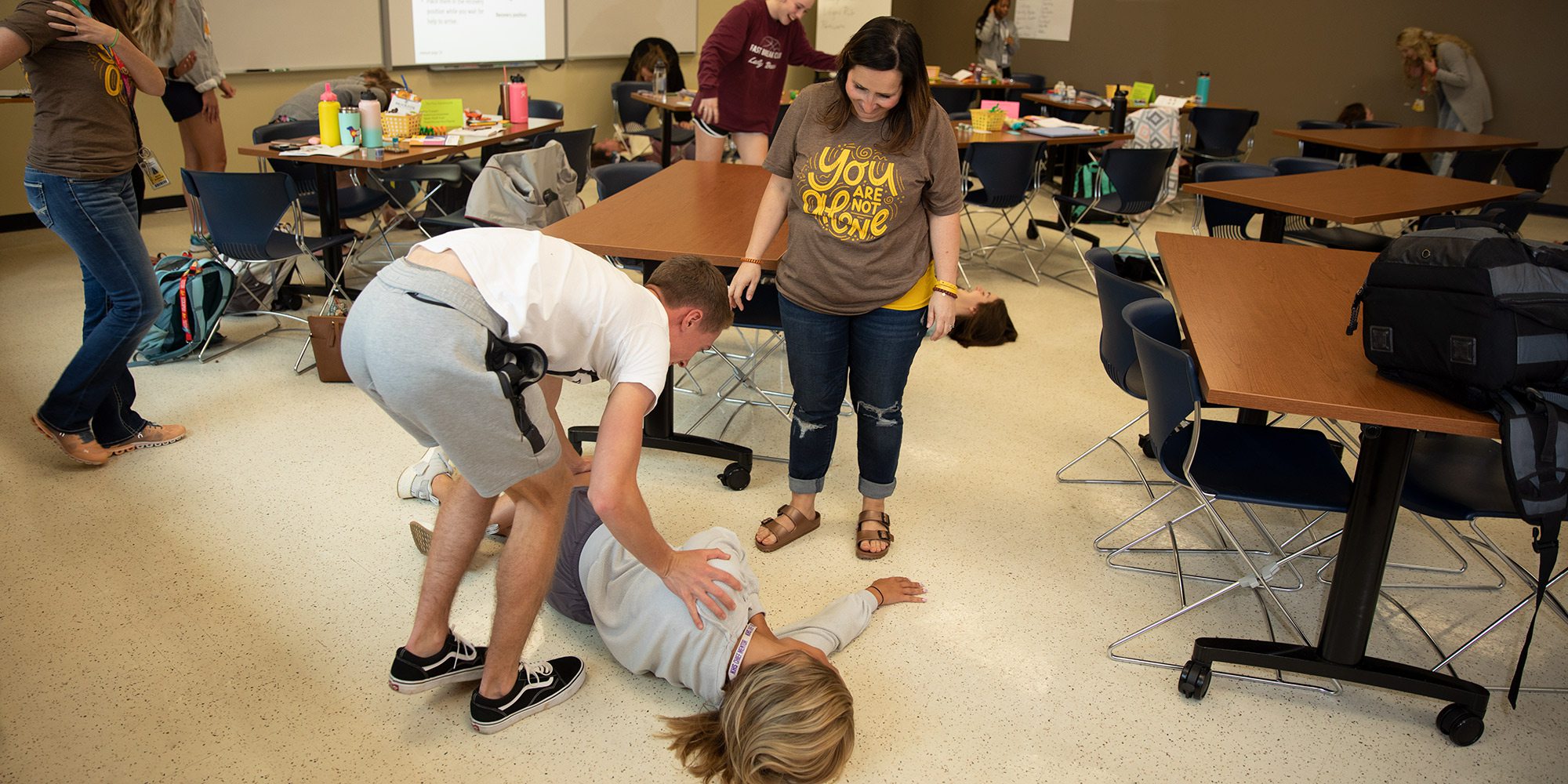 This story is part of 417 Magazine's list of Top Doctors, as nominated by their peers, and they represent the best in medical and surgical care across 77 categories.
Mental Health First Aid
Community Partnership of the Ozarks and Springfield Public Schools are working to make mental health first aid as commonplace as traditional first aid. Kickapoo High School is one of eight schools nationwide taking part in the new Teen Mental Health First Aid pilot program under the National Council for Behavioral Health, which has teamed up with Lady Gaga's Born This Way Foundation. Amy Moran, a counselor at Kickapoo, is one of five mental health first aid trainers in Missouri, and she helped lead all Kickapoo sophomores through the training. "The idea behind this is to train teens just like we train them in CPR," she says. "We've seen an increase in anxiety and [suicide] attempts," so the program teaches students what to do if they hear a friend or loved one is struggling with a mental health issue. Step one, says Kickapoo sophomore Natalie Gates, is erasing the stigma around mental health. Then it's about teaching kids it's okay to seek help. "A lot of it comes down to being afraid," Gates says. "You might not trust your parents, or you're scared of how they'll react or you're scared of the stress this could add to their lives." The full-day training teaches students to look, ask, listen, connect and be a good friend.

"Imagine if your kid had a broken arm and were told they couldn't get help for six weeks. That would be unacceptable. That's often what happens in the mental health world."
— Dr. Kyle John, director at vMentalWellness
Mental Health Goes Virtual
Dr. Kyle John, a pediatric psychiatrist and the medical director for vMentalWellness at Mercy Virtual, thinks he's found a way for kids to get mental health help right away. The key is training a child's primary care physician to address basic mental health needs. "There just aren't enough child psychiatrists," John says, and there also isn't enough training in pediatric mental health. That's where Mercy's vMentalWellness comes in. When pediatric primary care providers need help, they can call a trained provider through Mercy Virtual. "We're not just giving advice," John says. "We follow that child along with a primary care doctor, so if we read something in the chart that makes us think that kid needs eyes on them today, we can communicate [with the child via] telemedicine." Since the program launched in January 2018, John says the team has only communicated directly with a patient through telemedicine five or six times. He credits that low rate with successful training for primary care providers. By April 2018, Mercy primary care providers had reached out to vMentalWellness 615 times, and its online resources had been used 2,732 times. "This enhances a provider's ability to take care of some of the mental health issues with kids," John says. "Imagine if your kid had a broken arm and were told they couldn't get help for six weeks. That would be unacceptable. That's often what happens in the mental health world." 
Mental Health Care on the Spot
Burrell Behavioral Health has teamed up with Springfield Public Schools, CoxHealth, Mercy Hospital Springfield, Drury University, the Greene County Family Justice Center and Stephens College in Columbia, Missouri, all with the goal of improving access to mental health services. In Springfield, Burrell has rolled out its same-day mental health clinic. "We call it the Access Center," says Matt Lemmon, Director of Communications at Burrell. Located at Burrell's main Springfield campus, the Access Center provides same-day consultations with a licensed clinical intake specialist. During the previous quarter of 2019 alone, the Access Center served 1,909 individuals. Between 2017 and 2018, the average number of days it took for a patient to receive service dropped from 22.9 to 5.8, which Lemmon says is, "at least partially attributed to the new access model." 
Mental Health Care in the ER
Since 2016, Mercy's emergency room has seen a 12 percent increase in the number of patients who present behavioral health concerns, says Brent Hubbard, president and COO of Mercy Hospitals Springfield Communities. "That's 6,000 patients," he says. But there's a shortage of inpatient psych unit beds in Missouri, so it could take up to 24 hours to admit a patient. In the meantime, these patients are stuck in the emergency room. To address that, Mercy created a psych unit in the ER and partnered with Burrell to provide timely mental health assessments. The new eight-bed wing of the ER provides patients a calm setting until they're admitted into the hospital's primary psychiatric unit. The unit is staffed with registered nurses trained in behavioral health. 
Looking for the perfect healthcare provider? 417 Magazine's annual Top Doctors list features winning physicians in 77 medical and surgical specialties throughout 417-land. These physicians were selected by their peers in the local medical community who voted for them in our Top Doctors survey.