Table Talk
Table Talk: December 22–28
Last-minute ideas for holiday meals, Christmas lights, wrapping tips and more in this week's Table Talk.
by Katie Pollock Estes
Dec 22 2020 at 8 a.m.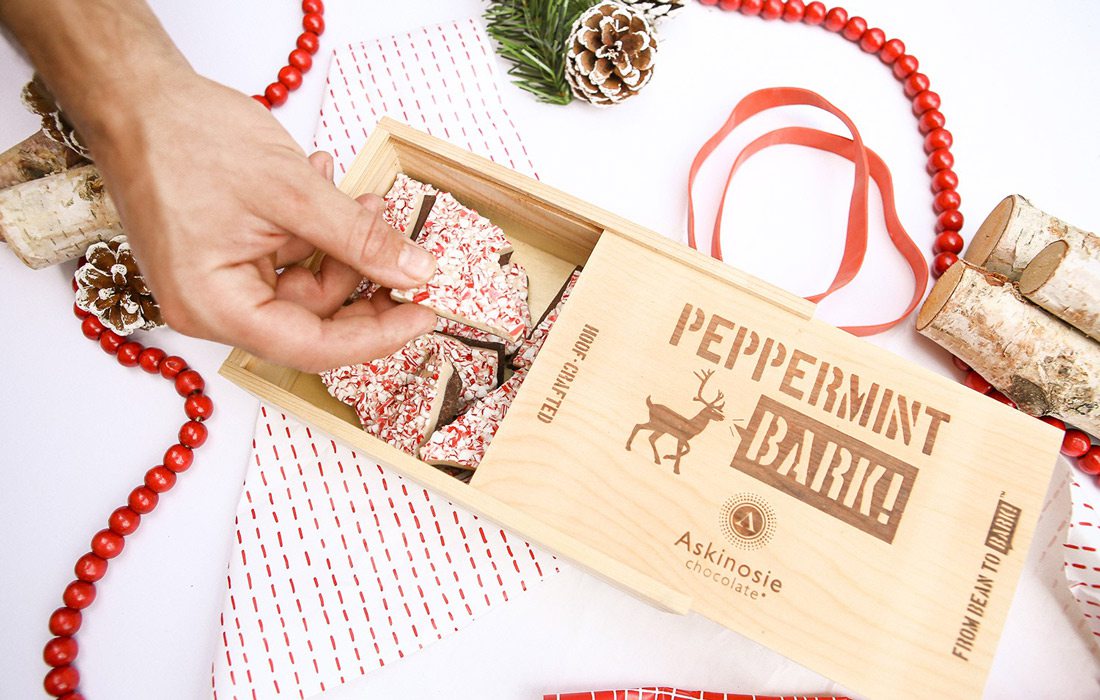 Last Call For Peppermint Sweets
The holiday season is drawing to a close. And when it goes away, so will all the Christmassy peppermint sweets that have popped up on local menus this winter. Here are a few tasty ones that you'll want to grab while you still can.
Peppermint Bark
This sweet treat from Askinosie Chocolate features crushed natural peppermint candy sprinkled over white chocolate that's layered over single-origin dark chocolate. Those are a lot of delicious words, and they taste delightful all together. You can get a tin of the good stuff for $15 or a box of it for $30. And if you're really feeling wild, get a jar of the peppermint bark sipping chocolate for $17. Order it online for pickup at Askinosie Chocolate's walk-up window.
Candy Cane Concrete
This season at Andy's Frozen Custard, you can get tons of crunchy little peppermint candy bits blended into a concrete for a festive frozen dessert. Here's our hot tip: Ask for a hot fudge jackhammer in your concrete to kick it up a notch and turn it into a gooey, chocolatey indulgence.
Holiday Milkshakes
A few months ago we told you about the over-the-top milkshake lineup at Big Cedar Lodge's Uncle Buck's Fishbowl & Grill. Now they are offering a holiday lineup as well, with three crazy, peppermint-y, gingerbread-y desserts. Each shake comes with numerous festive toppings, including things like whole candy canes, ribbon candy, iced cookies, gumdrops, snowy white cotton candy and more.
Festive Recipe Roundup
Christmas is in just a few days, and you might fall into one of two meal prepping camps: The camp that has a spreadsheet housing all your holiday food plans, recipes and shopping list. (Confession: I have a spreadsheet; I am a little ashamed.) Or perhaps the camp that has been putting off meal planning and is now in a major food crunch. If you're in the latter group, we are here to help you out. We've put together a blog filled with great holiday recipes from our archives, so you can figure out what to feed the fam without too much effort. We have everything from sweet breads perfect for Christmas morning to the entrees, sides and desserts to make up your dinnertime feast. Don't worry, we didn't forget the cocktails either!
Holiday Wine Pairings
What good is that perfect menu you're creating if you don't have some stellar wines to serve alongside it? We talked to local wine experts Jason Bernard of Macadoodles, Kirsten Vlasic of Cherry Picker Package x Fare and Elle Feldman of Good Clean Wine to get their take on the perfect holiday wines to serve this season. Read our blog to learn their tips, including ideas for great sparkling wines to start the night off right and recommendations for reds and whites to pair perfectly with every meal.
Tasty Gifting: Week 4
In the last installment of our mini foodie gifting guide, we are talking about last-minute inspiration. If you're reading this right now, three days before Christmas, you probably need it! I know I have at least one more gift on my list that I plan to fulfill by buying some tasty local beers for a brew-loving relative. What about you? Here are a few ideas to get you through the home stretch.
Build a Beer Variety Pack
If you know somebody who loves to try tasty local brews (especially an out-of-towner who hasn't tried Springfield's microbrews before), you can put together a basket with bottles or growlers from your favorite local spots. Read our roundup of some local breweries to get some inspiration about where to go and what to choose.
Indulge Your Coffee-Loving Friend
The Coffee Ethic has promoting their non-drink goods for Christmas gifting, and we're here for it. There are reusable mugs made from coffee bean husks, coffee bean grinders, beautiful supplies for making pour-over coffee at home, Stagg gooseneck kettles that are as stylish as they are useful, cold brew systems and a ton more. You can even get SGF flag mugs to show a little local love. One of those plus a pack of coffee beans would make a lovely gift for the caffeine-lover in your life.
Nab Some Hot Cocoa Bombs
Hot Cocoa Bombs are a hot ticket item this year! And we totally get it. They look beautiful enough to give as a gift, and the way those little spheres melt to become the perfect cup of cocoa when you add hot milk almost seems like magic. Grown-ups love them as much as kids do, and they are just the right size to bundle up as a stocking stuffer. Springfield Charcuterie has been making them this year but may be out of stock for the season (which should just be an excuse to order a charcuterie box instead). Fear not, though. You have a few other options. Both The Rolling Pin and Village Pottery Cafe are selling the pretty little sweeties for $5 each.
Go for the Gift Card
Another great (and crazy easy) way to finish shopping for everyone on your nice list while also supporting local restaurants is to stock up on gift cards. You can get them just about everywhere, customizing the gift to every recipient's tastes. Some local spots are even offering gift card deals, offering extras with every purchase. So, fill those stockings and stuff those Christmas cards!