Food
Delicious Artichoke Recipes from Katie Baker of The Gracious Plate
These artichoke-packed recipes from private chef and culinary pro Katie Baker take this humble ingredient far from the dips it's mostly known for and give it a sophisticated and delicious look.
by Ettie Berneking
Mar 2021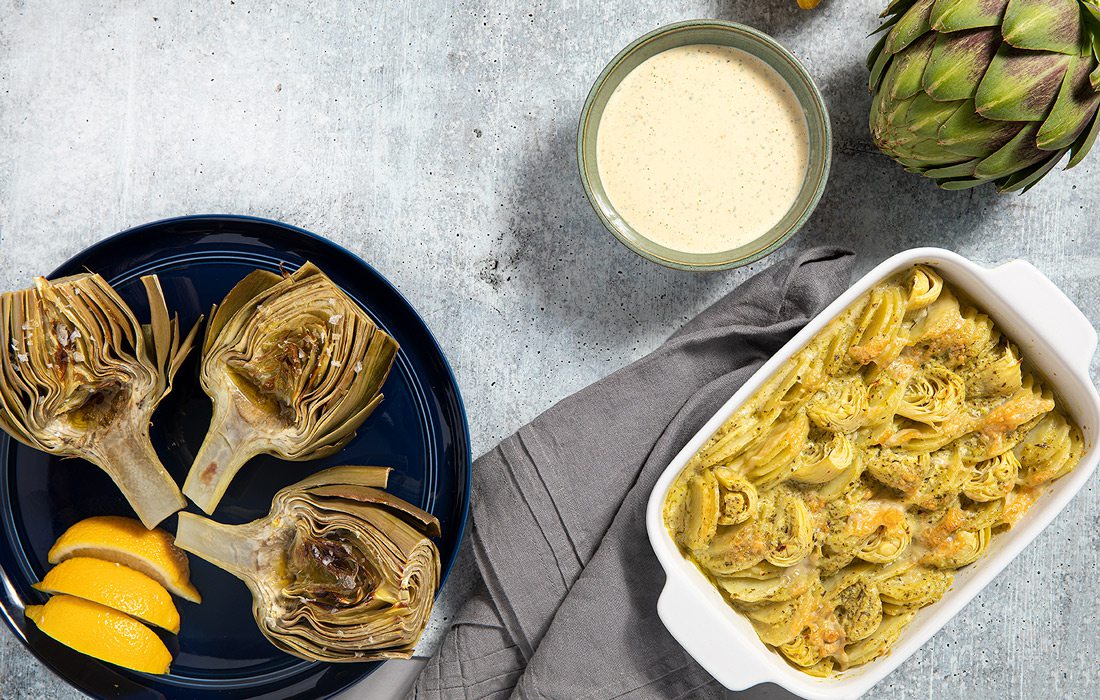 For the Aioli 
• 1 egg
• ¾ cup neutral cooking oil
• 1 garlic clove, minced
• Zest and juice from 2 mandarin oranges
• 1 tablespoon plus 1 teaspoon dried tarragon
• ½ teaspoon kosher salt
For the Artichokes
• 4 lemons, halved and seeded
• ½ cup white wine
• 4 medium artichokes
• Olive oil, as needed for roasting or grilling
• Sea salt, to garnish
To Prepare Aioli
A day in advance, use a stick blender to blend the egg until foamy, then slowly drizzle in oil until the two are combined to form a thick sauce. Add garlic, zest, juice, tarragon and salt. Blend until combined. Chill.
To Prepare Artichokes
In a medium bowl, juice lemons and fill bowl halfway with cold water. Add lemon rinds and wine. Set aside. Prepare each artichoke by trimming the stems to 1 inch. Remove small tough outer leaves from the bottom of the artichoke. Use a paring knife to peel a thin layer off the outside of the stem. Cut ½ inch off the top of the artichokes. Using kitchen scissors, cut the spiky tips off the leaves. Halve the artichokes. Use a paring knife to cut the fuzzy choke out of the center, and discard.
In a medium saucepan, bring strained lemon juice and water to a low boil. Add artichoke halves to the pot, and poach on medium for 20 minutes, or until the leaves are just tender. Strain artichokes, then return them to a sauce pot to steam away excess moisture. Place artichokes center up on a baking tray. Drizzle with olive oil and lightly salt. Broil at 500°F for 10 minutes. Transfer to a serving platter and sprinkle with flakey salt. Serve warm with chilled aioli.
This dish typically serves eight people.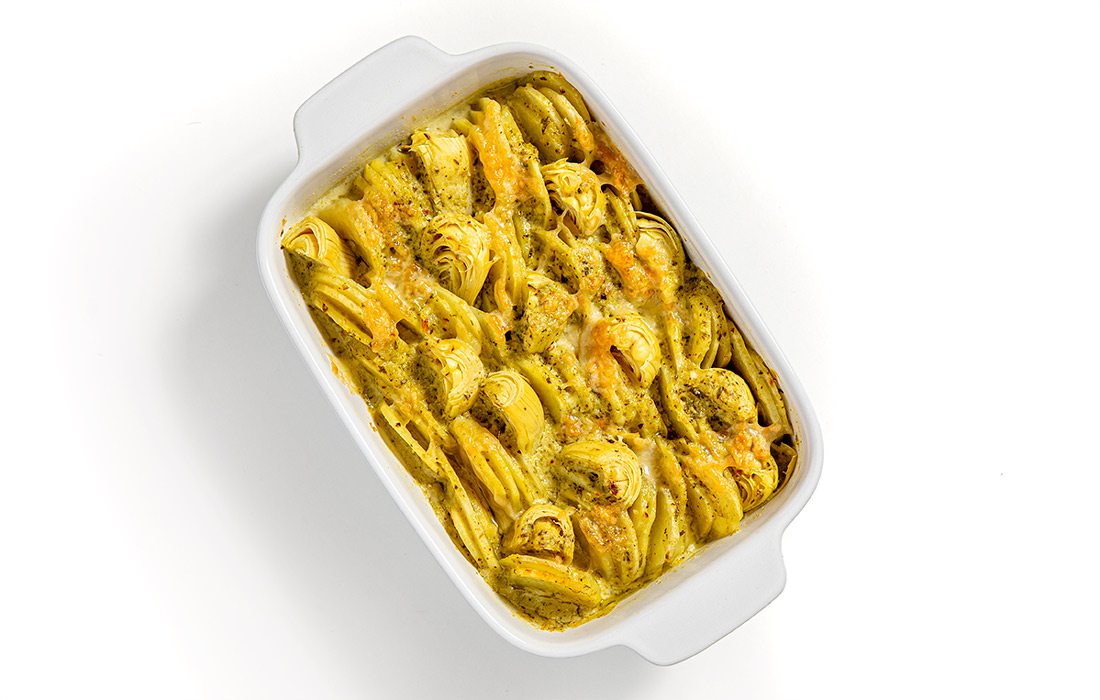 For the Pesto
• ½ cup carrot greens, stems removed
• ½ cup peas, fresh or frozen
• 3 tablespoons almonds, toasted
• 3 garlic cloves, minced
• 2 tablespoons lemon juice
• 4 tablespoons Parmesan cheese
• ½ teaspoon kosher salt
• 3 tablespoons olive oil
• 3–6 tablespoons water (as needed)
To Prepare the Pesto
In a food processor, mix carrot greens, peas, almonds, garlic, lemon juice, cheese and salt until a loose paste forms. Slowly add olive oil while food processor is running. Scrape the sides as needed and continue to blend. Add water a tablespoon at a time to create a sauce-like consistency.
For the Béchamel
• 1½ tablespoons unsalted butter
• 1½ tablespoons all-purpose flour
• 1 cup whole milk
• Kosher salt to taste
To Prepare the Béchamel
In a small saucepan, melt butter. Stir in flour for about 1 minute to form a paste. Whisking constantly, add milk in increments to avoid clumps. Salt as needed. Continue stirring until sauce comes to a simmer and begins to thicken. Reduce heat to low, and cook for 3 minutes, or until sauce can coat a spoon. Gently fold in pesto.
For the Gratin
• 2-3 yukon gold potatoes
• 2, 8.5oz cans artichoke hearts, drained
• Pesto cream Sauce
• Parmesan cheese for garnishing
Using a mandolin slicer or food processor slicing blade, thinly slice peeled Yukon potatoes. Add them to a bowl with 1 can of artichoke hearts and the pesto cream sauce making sure to cover all the potatoes completely with sauce. Shingle potatoes and artichokes in a medium size baking dish alternating potato and artichoke. Add remaining can of artichokes to the top of the dish, arranging them over the potatoes and artichokes below. Bake at 300°F until the potatoes are tender and the surface is lightly golden brown, about 1 ½ hours. Top with grated Parmesan and broil until evenly browned on top. Allow the gratin to rest 30 minutes before serving.
This dish serves 8–10 people.

Find out more about Katie Baker on her website.