Profiles
Springfield Lasers Coach John-Laffnie de Jager Q&A
How does a former pro-tennis player from South Africa end up coaching the Springfield Lasers. Check out our Q&A with John-Laffnie de Jager.
By Jamie Thomas
Jul 15 2020 at 8 a.m.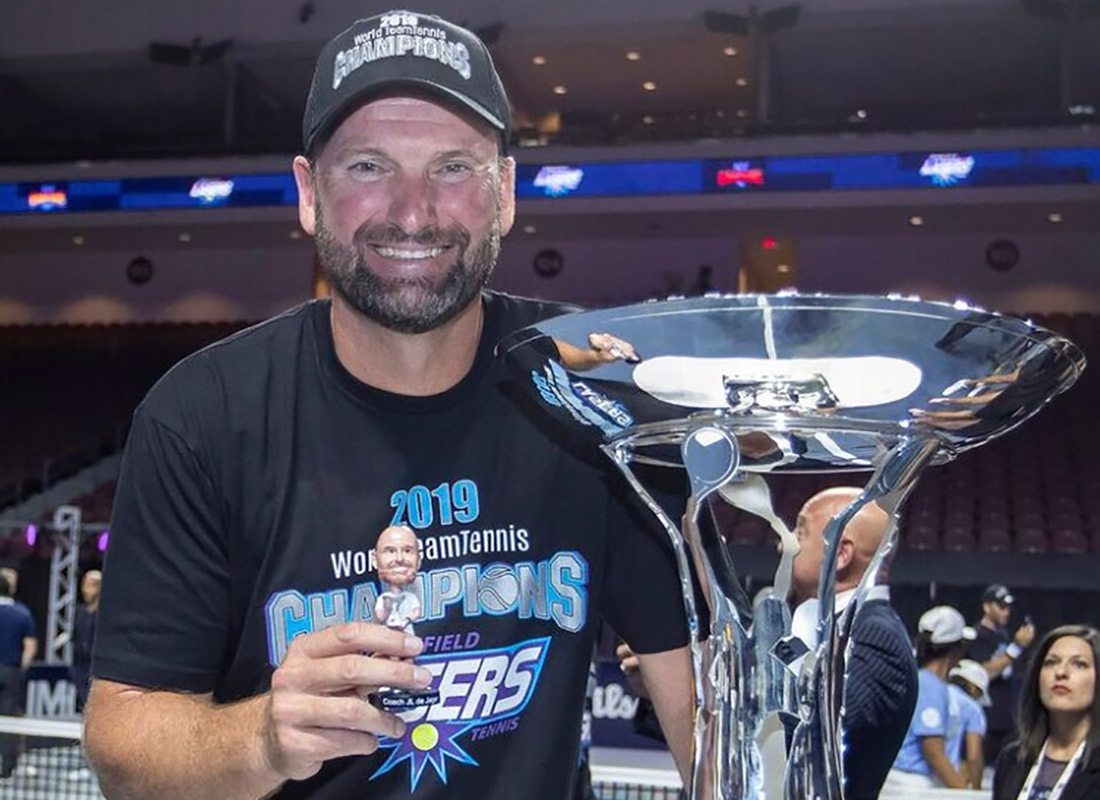 After dealing with delays thanks to COVID-19 (like...well, basically everything), the Springfield Lasers are back on the court for the 2020 season. You can watch matches between now and August 1 on Mediacom MC22 (digital 85-5) or take a look at the official schedule on the team's website. We spoke to Springfield Lasers coach John-Laffnie de Jager about how he became a tennis pro, how he ended up as the Springfield Laser's coach and his experiences of 417-land as a globe-trotting South African athlete.

417 Magazine: How did you discover a talent for tennis?
John-Laffnie de Jager: That's an interesting story; when I was born, my heart stopped and they had to give me an injection to get my heart going. Instead of injecting me in my thigh, they injected me in my butt and basically hit the main nerve going down my right leg, so I only had 10 percent use of my nerve in my right leg.
[The] doctors told my parents that I only had a 12% chance of walking properly and I'd never be able to play any sport. My right leg is an inch-and-a-half shorter than my left leg, I was in a cast until I was three years old. I grew up on a farm, I was always running barefoot and it helped me to get more flexibility in my right leg. My dad was a sports fanatic and he always played ball with me, and from a very young age I started playing tennis. Tennis was my third sport; I was massively into rugby and cricket. Tennis was the sport I played during the holidays.
When I was 12 years old I came third at the Junior Orange Bowl, one of the biggest junior events in the world. I also won a tournament [at age 12] at Fort Washington in New York. On that trophy were names [like] Connors and McEnroe, and that was the first time I told myself 'well, maybe I should focus on tennis.'
417: When did you play in your first professional tournament?
J.L.: I played in my first professional tournament when I was 16. At the age of 18 I went to America and played some satellites—these days they're called futures—and did really well in doubles. I won my first singles future that year and at the age of 19 I qualified for Wimbledon in singles that July.
Six months later at the Australian Open, literally the first shot in doubles, I went over my ankle and tore my ligaments, but I kept on playing and actually went through the tournament and made the semifinals and became the youngest South African that made the semifinals of a grand slam.
417: What kind of impact did that injury have?
J.L.: I came home and the doctor that was looking after me from a young age said 'if you continue playing singles and doubles you're going to go for four years, then your back will be screwed up.' So, I had to make a decision just to focus on doubles. I was very fortunate because I know it's a long process, but my jump was very quick from playing junior tennis into the big leagues, playing in them and making the grand slam semifinals. [...] When I was 33, I was actually forced to stop because of my back, it was just too much. I play with all the players that I coach, I can hit balls and stuff, but I don't play competitive tennis anymore.
417: How does your own life experience inform your coaching?
J.L.: I love to take myself out of my comfort zone on a constant basis, I think that's what we've got to do to grow. I've always had a love of helping people and I wanted to be a teacher; if I hadn't succeeded in sport, then I wanted to be a teacher because I love working with kids and helping people. The experiences that I've had in my life have really helped me from a coaching perspective.
417: Being from South Africa, how did you end up coaching a team in Springfield, Missouri?
J.L.: I played with World Team Tennis as a player, I actually played for Kansas City and I played for St. Louis. When I stopped playing, I wanted to still be part of it because I really loved the team environment. I called Billy Jean King [World Team Tennis co-founder] and I said, 'if there's any opportunities in World Team Tennis, I'd love to follow it. Then Trevor Kronemann, who was coaching Springfield, got a job in Newport Beach and that's when the spot opened up. That was 13 years ago. It's been a great run with them. I really love it. I mean, it's like my family, I spend a lot of time there and it's just been awesome.
417: What has your experience with the Springfield community been like?
J.L.: If I have to describe the people in Springfield, I'd describe them as champion people. Everybody is so friendly, so nice, they're there to support us. […] The greatest thing for me was in 2018, when we won [the World Team Tennis championship] I was able to go back to Springfield after the finals, and it was amazing for me to understand how much it meant to the city. I was walking into shopping malls and people would come up to me and say, 'hey, coach, well done with the title.' And I'm like, 'great, thank you for supporting us and coming to watch' and they're like 'oh, we don't watch tennis, but it's great for the city that we won the title.' I really experienced for the first time how much it meant for the community.
Get the latest on the Springfield Lasers at the official website or Facebook page, or follow the team on Twitter @SGFLasers. You can also follow coach John-Laffnie de Jager on Twitter @JohnLaffnie.