Things to Do
Learn About Local History by Visiting a Historic Mill
Spend an afternoon exploring some of southwest Missouri's historic mills, most of which were build before 1900.
By Jenna deJong
Apr 2020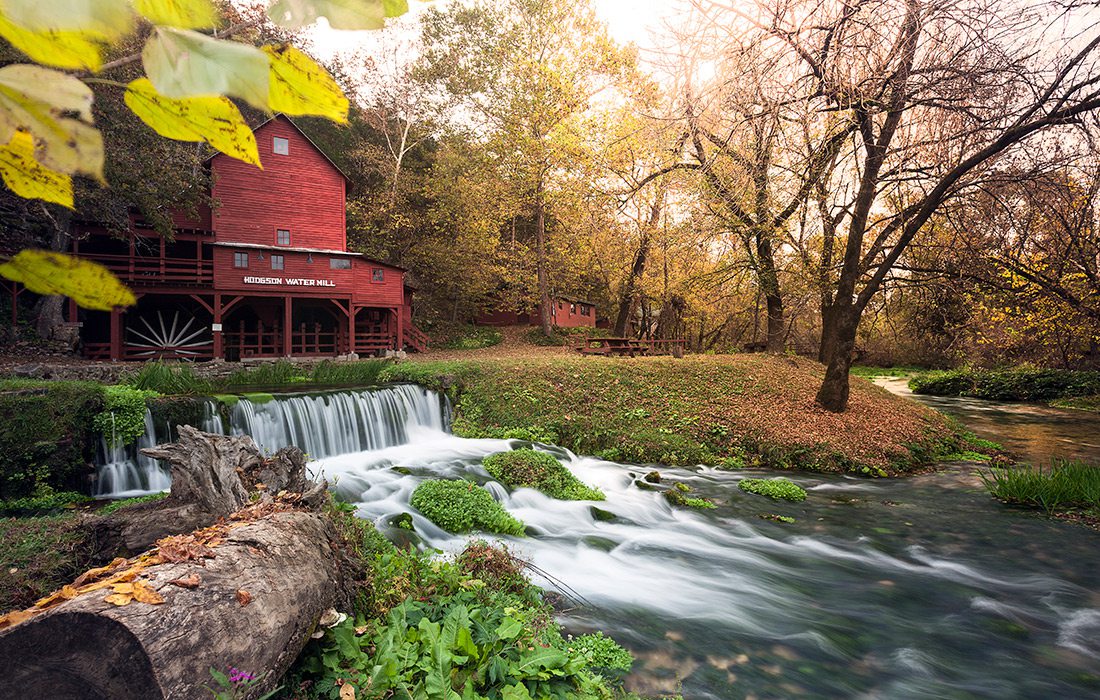 Hodgson Mill
Highway 181, Dora
A hidden gem worth the two-hour drive, Hodgson Mill is a must for your historic mill bucket list. Resting southeast of Springfield, this building was brought to life in 1837 and is still used today to produce grain products. The scenery is breathtaking—the red wooden mill has a serene, charming feel to it. The building sits against a bluff overlooking Bryant Creek, which is perfect for fishing. And since spring is the ideal time for a picnic, this is the go-to place for an idyllic afternoon.
Ozark Mill
802 Finley Farms Lane, Ozark
If you haven't visited the Ozark Mill yet, clear a day in your schedule pronto. The historic mill, built in 1833, has long been a landmark in Ozark and served as a community gathering place and even an official voting place in its early days. Now Megan Stack, daughter of Bass Pro Shops' Johnny Morris, is hustling to make the 40-acre Finley Farms property a community gathering place once more. During your visit, shop at the newly relocated Ozarks Farmers Market and take a class at The Workshop. This year, a full-service restaurant is expected to open. In the future, there will be a few trails weaving through the property and a speakeasy called The Garrison. Visit them online for more updates.
Dawt Mill
8 Dawt Mill Drive, Tecumseh
Need an excuse for a delicious dining experience? Dawt Mill features a few different dining options, including The Chef's Table. Reservations need to be made at least 24 hours in advance, and for good reason—the restaurant features one 12-person table where Chef Ryan VanWinkle cooks up something delicious. All 12 seats get a view of the beautiful North Fork of the White River. If you're looking for something a little more laid-back, inside the General Store is Sawyer's Deli, complete with cold-cut sandwiches and ice cream. Spring hours are from 8 a.m. to 3 p.m.
Rockbridge Gristmill
4297 County Road 142, Rockbridge
Looking to enjoy a drink while exploring? Head to Rockbridge, Missouri, just an hour and a half from Springfield. The 2,000-acre property features the Grist Mill Club, which has beverages like margaritas and more. The property also features hiking trails, casual fine dining, horseback riding, rainbow trout fishing and more.
Be sure to check out these additional four mills in the Ozarks: Wommack Mill (Fair Grove), War Eagle Mill (Arkansas), Working Grist Mill at Dogwood Canyon and Klepzing Mill.