Dishes
Restaurants that Deliver in Springfield, MO
Don't stress about cooking your next meal—order in from one of your favorite Springfield restaurants that deliver.
By Caiti Sloman
Mar 01 2020 at 8 a.m.

Updated 03-13-2020
Whether it's been a long day and you don't want to cook dinner, or a hectic morning and you get to work without lunch, there's plenty of options to order in… a lot more than we thought. Delivery doesn't only mean pizzas nowadays. With the rise of service apps, you can get plenty of 417-land favorites brought to you to fulfill your breakfast, lunch, dinner or dessert cravings along with some classic spots doing their own delivery in Springfield, MO. Each app will let you know the anticipated wait time, delivery range and any extra fees before you place your order.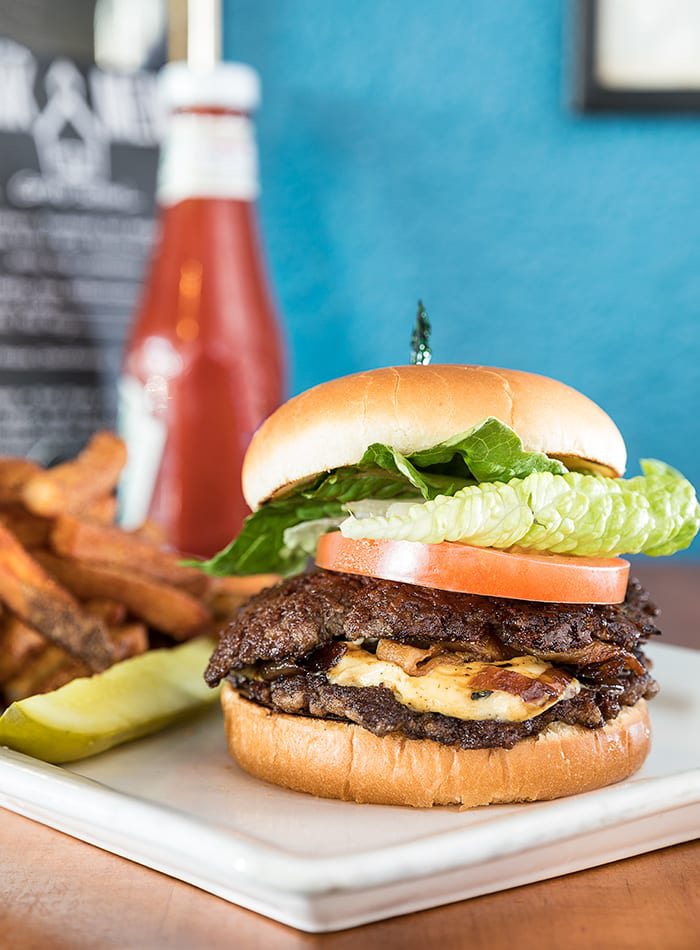 Photo by Brandon Alms
Order The Full Ride from Grad School for the best office lunch ever.
Purchase Photo
Breakfast/Brunch
Aviary Café via DoorDash
Voted Best Brunch by 417 Magazine readers, the Aviary Café is known for its sweet and savory crepes. You can also order yummy sandwiches, soups and salads—with a little French flair—all day.
Gailey's Breakfast Cafe via Postmates
Breakfast is served all day so you can always fulfill your French toast, eggs, and hash brown cravings. Beyond breakfast, there's also a tasty lunch menu including burgers and sandwiches.
Burgers
Bair's Sports Grill via carGo, Postmates & UberEats
Devour one of 50 burgers on the menu at home so no one can judge you for making a mess with all the contents. We're especially fond of the Fried Pickle and Ranch Burger, which boasts 1/2-pound patty with fried pickels, a blend of five cheeses and buttermilk ranch dresing on a toasted bun.
Black Sheep Restaurant via Postmates & carGO
As if the ASAP location with drive-thru wasn't enough, order your favorite burger and funky fries (we recommend the salt 'n' vinegar fries) straight to your home. You get the convenience of fast food with the quality of Black Sheep's upscale kitchen. The only downside is that you can't order a boozy shake for delivery. 
Chinese
Amazin' Asian via phone at 417-882-4000
In addition to Chinese food, Amazin' Asian also has Vietnamese dishes. And, fun fact time: they were actually the first Chinese restaurant in Springfield to offer delivery. Starting at $5, you can customize your own fried rice or noodles, which is perfect for even the pickiest of eaters.
Leong's Asian Diner via Postmates
Our readers voted Leong's Asian Diner as Best Chinese Food and Best Cashew Chicken (it was invented by David Leong himself, after all). Grab a lunch or dinner portion of your favorite authentic dish. 
Teriyaki House online or via phone at 417-866-6888
Hop online and get yourself some delicious sushi or noodles for dinner. Teriyaki House is open 4:30-10:30 p.m. daily. There's a $10 minimum for a delivery order, but you don't have to leave your bed.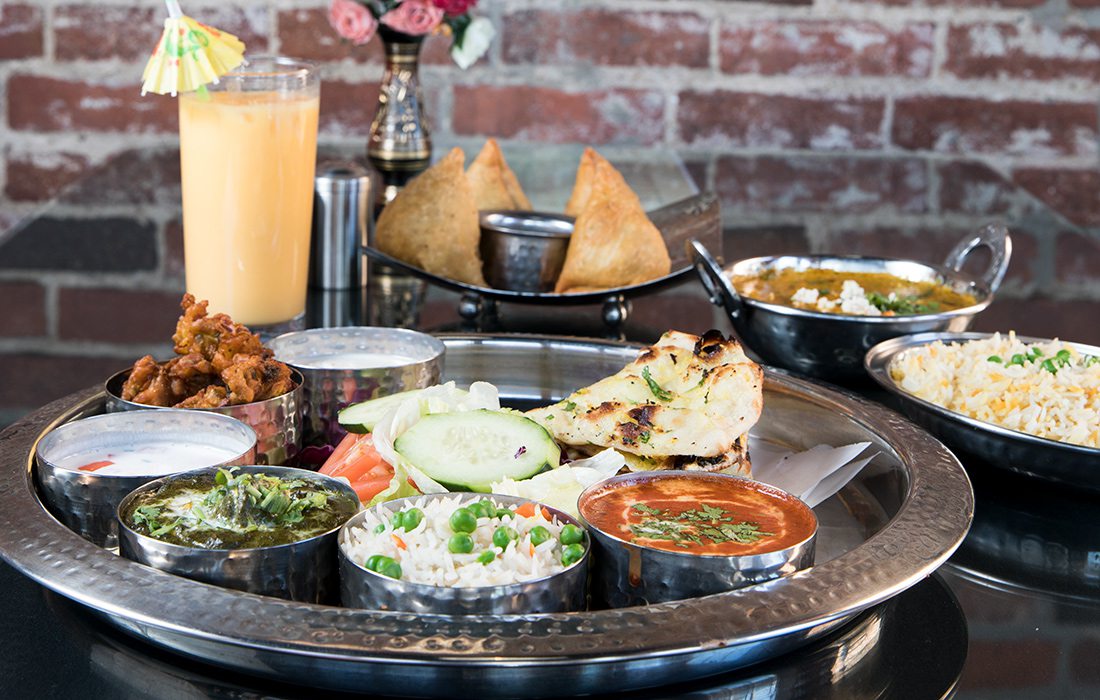 Indian
Masala Square (formerly Gem of India) via Postmates
Whether you want a tame or spicy exotic dish, Masala Square has an extensive menu, which includes chicken, seafood, lamb and vegetarian options. You can also order dinners for two to four people, including appetizers, various entrees and dessert. Editor's note: As of March 22, 2019, Gem of India is currently closed and will be reopening as Masala Square.
Taj Mahal Indian Restaurant via Doordash & Postmates
For a delicious curry or yummy rice dish, get Taj Mahal delivered. The menu is very vegetarian-friendly with more than a dozen meat-free entrees. You can get all your favorite classic Indian cuisine too, from butter chicken to tikka masala.
Zayka Indian Cuisine via Grubhub & UberEats
Zayka is Springfield's newest Indian restaurant but they've won our taste buds over with a tasty lunch buffet that packs plenty of variety and flavor. Get your favorite dishes delivered to your home. Don't forget the naan!
Italian
Bambino's Café via carGo, DoorDash, Grubhub & Postmates
When the weather isn't perfect for patio dining, enjoy your favorite pasta dishes from home, with massive portions to satisfy your hunger. Between the three apps Bambino's is available for delivery on, you can choose your closest location.
Nicola's Ristorante via carGo & Postmates
Snag a gourmet meal you can devour in your pajamas. Treat yourself to a plate of pasta or mouth-watering meat and fish dishes. The chicken parmigiano is a highlight worth ordering, along with tasty desserts.
Nonna's Italian Cafe via carGo, DoorDash, GrubHub & Postmates
Get classic Italian dishes including pasta, sandwiches, salads delivered to you. There's plenty of seafood, chicken or vegetarian options. Try the spicy arrabbiata lasagna. Of course, you can't forget the homemade cheesecake.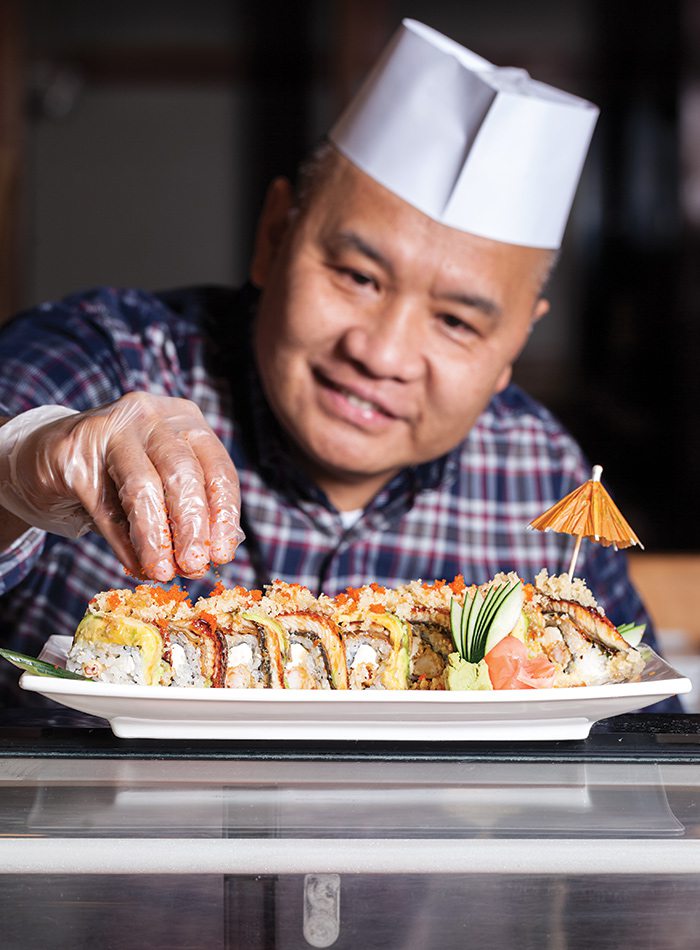 Photo by Brandon Alms
Order sushi or other entrees from Nakato Japanese Steakhouse & Sushi Bar.
Purchase Photo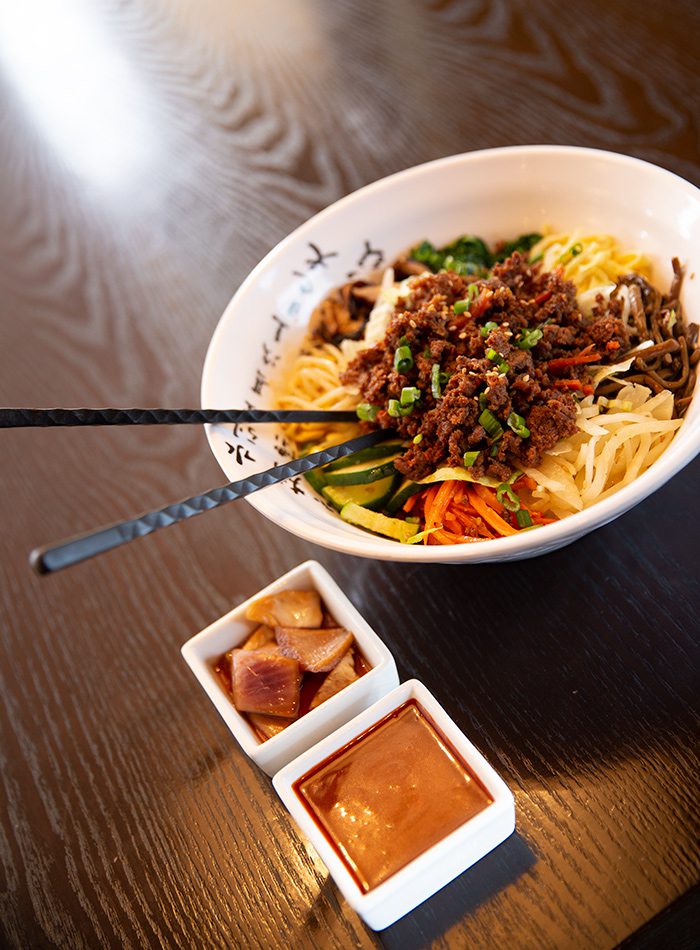 Photo by Kevin O'Reily
Enjoy a traditional korean dish from Koriya at home.
Japanese
Haruno Japanese Sushi Bar & Grill via DoorDash & Postmates
Winner of Best Sushi, Haruno is known for the Oh My God! roll and the Sex in the City roll. Beyond sushi, you can also a variety of delicious entrées from their vast menu. There's plenty of tacos, tempura and bibimbap to try.
Nakato Japanese Steakhouse & Sushi Bar via Postmates
We love the exciting hibachi style dining, but you can also get your lunch or dinner entrees delivered without the show. The sushi is popular among diners as well, they were the runner-up for Best Sushi in our Best of 417 awards. The Jenny Roll and the Hope Roll are fan favorites.
Korean
Koriya via DoorDash
Create your own bibimbap with your choice of rice, protein and sauce. You can add beef, shrimp, chicken, fried egg or tofu to satisfy your palette. They've also got several different ramen and soba dishes.
Soo's Korean Restaurant via DoorDash
Enjoy traditional Korean dishes from the comfort of your own home. The beef and pork bulgogi are fan favorites. We also recommend the Japchae—stir-fried sweet potato noodles with vegetables. 
Mediterranean
Greek Belly via UberEats
If you're looking for authentic Greek food, look no further than Greek Belly. Choose from various salads, pita wraps and platters. They've also got plenty of dips and pita to choose from for an extra snack. Almost everything is made from scratch.

That Lebanese Place via carGo
For a meaty kebab enjoyed at home, order from That Lebanese Place. There aren also plenty of options for vegetarian, vegan or gluten-free diets, from the stuffed grape leaves platter to beef shawarma.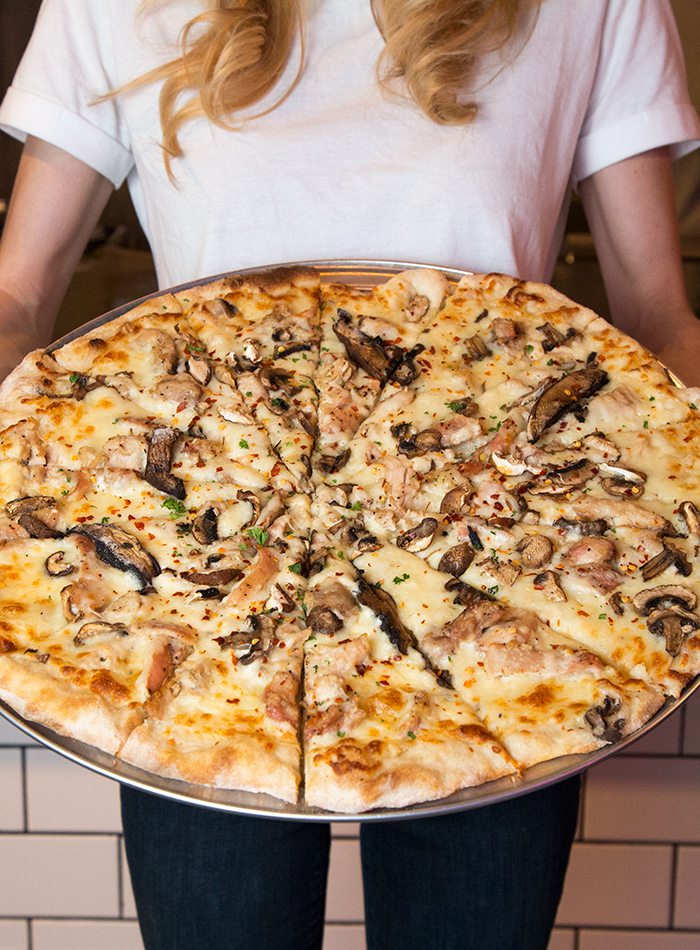 Photo by Vivian Wheeler
Step up your pizza game with a pie from The Pitch Pizza & Pub.
Purchase Photo
Mexican
Cesar's Old Mexico via Postmates
One of the most popular Mexican restaurants in Springfield is available to be delivered. The menu includes delicious authentic dishes from Mexico and El Salvador. We recommend trying the Salvadorian papusas or the street tacos.
Great American Taco Company via carGO, DoorDash & UberEats
Whether you prefer flour tortillas or street tacos, Great American Taco Company has you covered. Eating healthy? Swap tortillas for avocados. Then, choose from different proteins, including chicken, beef, seafood, pork or vegan options. There's a ton of different combinations and they have catering available if you've got a big group to feed.
Pizza
The Big Slice online or via phone at 417-720-1928
Head over to The Big Slice's website or call to order New York-style pizza, which was the runner up for best pizza in 417-land, for delivery. In addition to hearty pizza options, the menu also includes wings, calzones, lasagna and tasty garlic knots. 
The Pitch Pizza & Pub via UberEats
More than a dozen specialty pizzas are available with yummy toppings. There's also salads, pasta and sandwiches. If you're working on your summer bod, try the cauliflower crust pizza.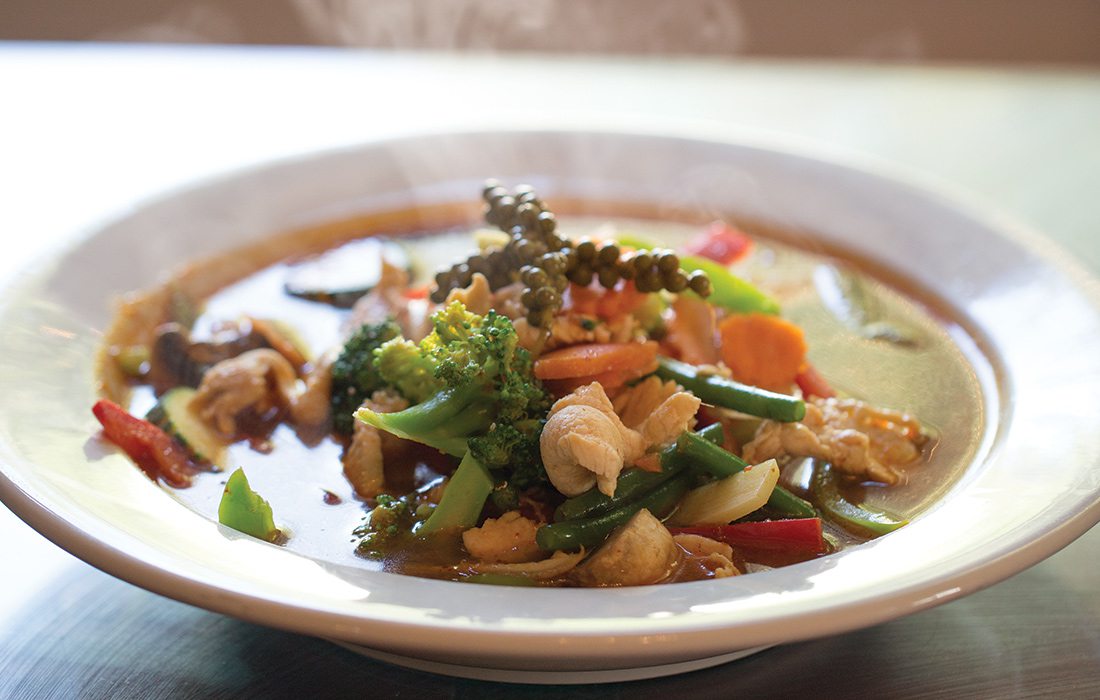 Thai
Everyday Thai via carGo & DoorDash
The chef at Everyday Thai was born in Thailand and has been cooking for decades, so the dishes reflect her original style. Enjoy fresh spring rolls, noodles, fried rice and curry.
Rama Thai via DoorDash
Winner of Best Thai Food, Rama Thai boasts plenty of authentic dishes with portions so big you'll be saving some for later. The Pad Thai and Drunken Noodle are fan favorites, but there are plenty of curries to try.