Life
How to Summer Like a Kid
It's time to unleash this summer and enjoy the water, the sun, the fields, the trails and the entertainment with the same abandon and excitement you had as a kid. Here are 15 carefree things to do this to ensure your best summer yet.
By Katie Pollock Estes with additional reporting by Cory Patton
Jun 2020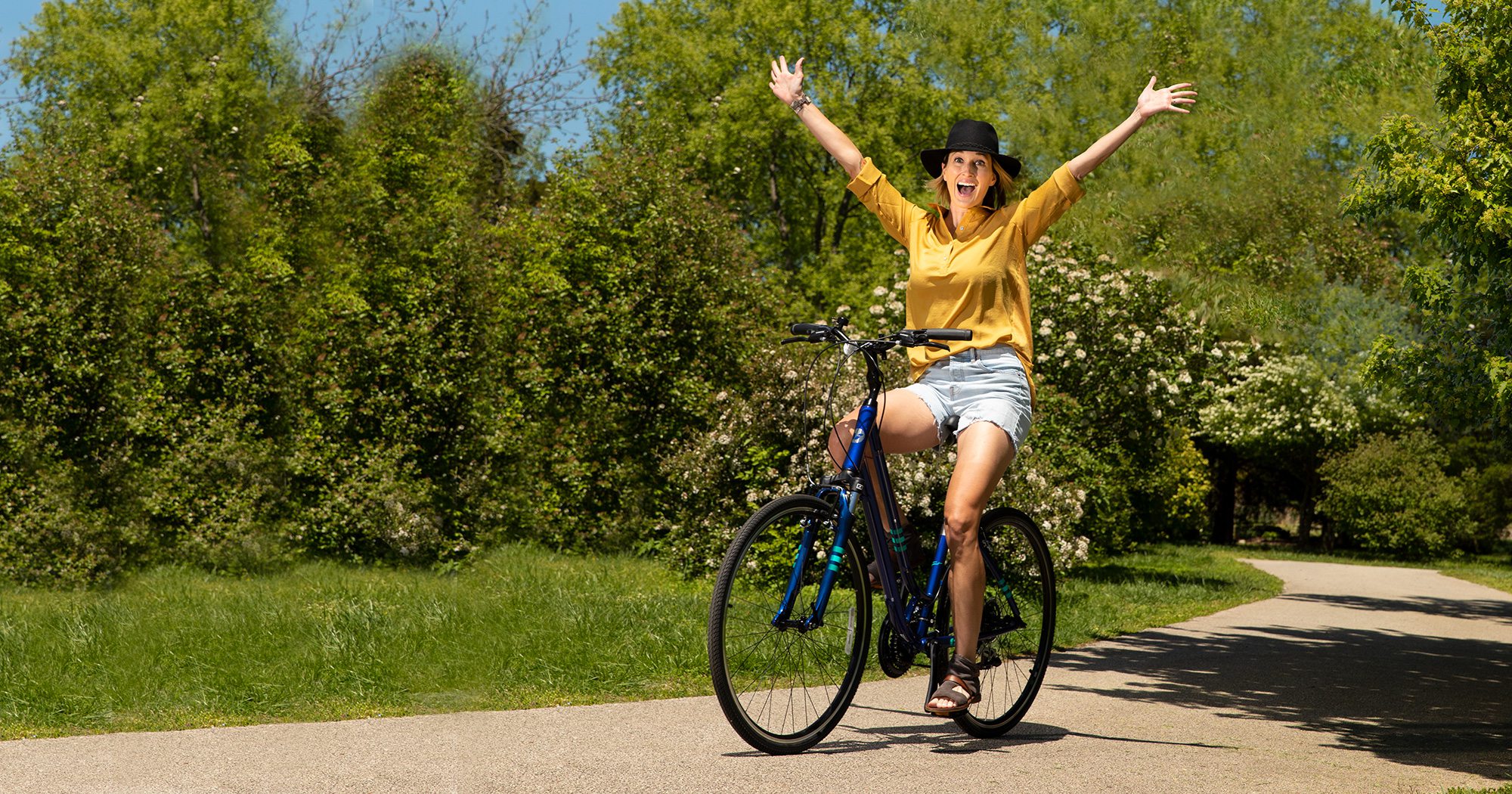 If ever there were a year when we needed to slough off the weight of the world and feel like a kid again, it's 2020. As we come out of a springtime filled with heavy news and often difficult lifestyle changes, it's time to let loose and enjoy a summer like the ones we had as kids. A summer filled with carefree exploration and fiercely intentional enjoyment of the little things that make this season magical. It's all about soaking up Vitamin D on a bike ride, breathing in fresh air on a hike, and the simple pleasure of enjoying an ice cream cone in the sunshine. So keep this issue as your guide, and carry it with you instead of your briefcase when you need a respite from adult pressures—because there's nothing more carefree than doing summertime like a kid.
1. Go Ride a Bike
Feeling wind in your hair as you zoom around on a bike is a great way to get your heart pumping. It's okay if you haven't done it since you were a kid. You know what they say...
Frisco Highline Trail
This trail runs 35 miles from Springfield to Bolivar, but you don't have to do it all at once. Try a partial trip from the Wishart to Bolivar trailheads to see wildflowers in La Petite Gemme Prairie and cross a 317-foot bridge.

Sac River Mountain Bike Trails
There are 14 miles of single-track trails here that wind through woods and prairies. It's great for more advanced cyclists, but beginners can tackle it too.
Dogwood Canyon Nature Park
The trail is paved, and the scenery is unbeatable, including numerous waterfalls and streams. Bonus: There's an on-site restaurant for post-ride snacks.
Two Rivers Bike Park
There are 14 miles of professionally designed single-track mountain biking trails spanning this 400-acre park.

Also read: The Best Bike Trails in Southwest Missouri.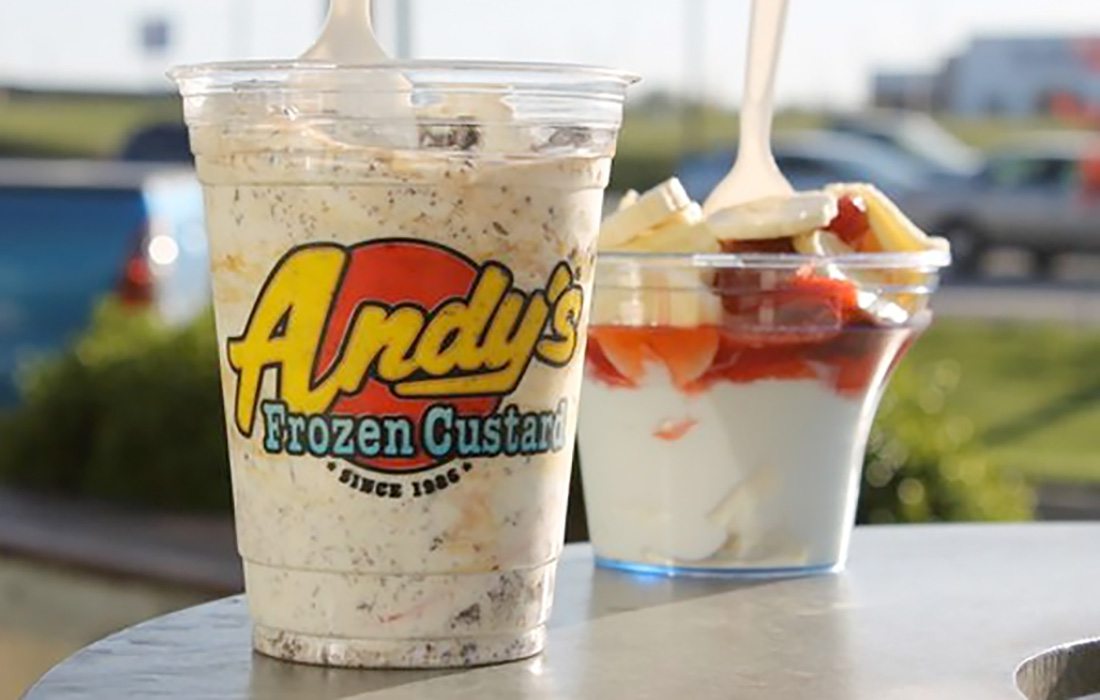 2. Eat Some Ice-Cold Treats
Andy's Frozen Custard
There's no better reward for standing in line in the heat than that first bite of Andy's. Grab a seat outside one of the locations and tuck into a summer seasonal, like a blackberry concrete in June or a key lime pie concrete in July.
Druff's
Venture to downtown Springfield for an ice cream cookie sandwich from Druff's. Creative ice cream flavors include basil, coffee, bacon butter pecan and strawberry reduction—and they're all served on cookies made by Prairie Pie.
Maes Gelateria
If gelato is more your speed, Maes Gelateria is a great family stop because there are so many flavors. We like the spicy chili chocolate—a kid-like treat with a very grown-up flavor profile. The menu has sorbet flavors, too.
Dreamsicle's
This Branson ice pop stop is too cute. You can build your own treat by picking a pop and then choosing from a variety of toppings, drizzles and sprinkly things to add. It's like if the ice cream truck took custom orders, and we're here for it.


3. Complete Your Summer Reading
Lazy summer days call for lazy summer activities, like slipping into a hammock, cracking open a book and letting the afternoon pass slowly. Here a few ways to connect with other readers this summer for some literary inspo.
The Library Center
Just one of the branches of the Springfield–Greene County Library District, The Library Center offers tons of resources. Outside of COVID-19, events and book clubs offered ways to connect with other readers. But even while the libraries were closed to visitors during the pandemic, there have been resources available, such as picking up reserved books at drive-through windows and browsing best-sellers and tools for book recommendations at thelibrary.org.
Pagination Book Shop
Things have been on hold a bit for COVID-19, but during normal times Pagination Bookshop hosts plenty of book clubs where you can indulge in your literary whims with a few other grown-ups who are along for the ride (watch their Facebook page for virtual author talks). Owner Jennifer Murvin is also great at offering recommendations.


4. Stay Up Late
Bedtime, schmed-time. Summer is for long hot days that bleed into cooler nights, and staying up late to enjoy it feels like a vacation. Here are a few carefree ways to enjoy twilight and beyond.
Go Night Swimming
There are so many pros: skipping sunscreen, sliding through water lit by pool lights, taking over a place that's usually reserved for sun-worshipping daytime fun. Find a friend with a pool, or join Green Meadows Pool, where you can partake in adult swim nights.
Play Ghost in the Graveyard
If you forgot how to play this game, enlist a kid to teach you. We did that, and we had a blast! It's a screeching, giggling, running-around-in-the-dark bucket of fun. And even though we enjoyed it with a 7-year-old, it'd be just as fun with a group of fun-loving grown-ups.
Catch Fireflies
They glitter, and they twinkle, and they are way more evasive than we remembered them being when we were kids. But fireflies flashing in the night sky are a quintessential childhood memory. So grab a jar, and let yourself relive the feeling of capturing a little magic.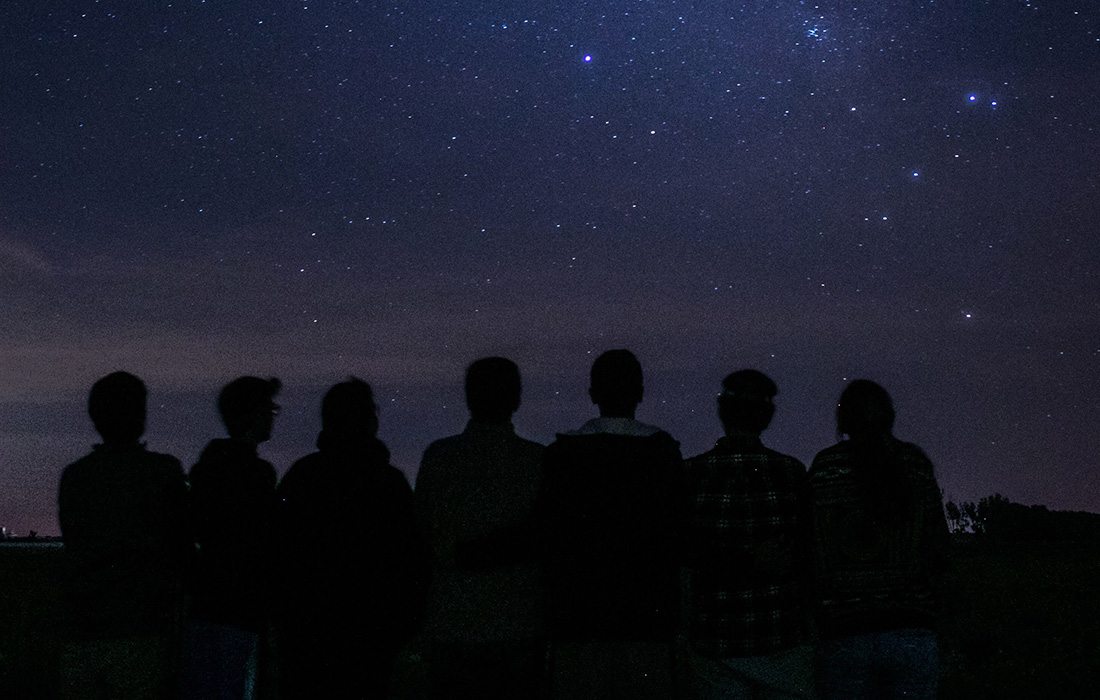 5. Gaze at the Stars
Remember what it felt like to marvel at the night sky when you were a kid? This summer, let yourself feel small in this great big universe by doing a little stargazing.
Lay on Your Back in Your Backyard
Toss a blanket down in your backyard, and lie back to admire the stars. Apps like Night Sky and SkyView let you point your phone at the sky to see what constellations are up above. Be sure to look up during the peak of the annual Perseids Meteor Shower (Aug. 11–12).
Visit River of Life Farm
Above the 9-acre observation field at River of Life Farm (riveroflifefarm.com), there's a big sky and minimal light pollution, which makes it a great spot to see a lot of celestial bodies. If you are staying in one of the treehouse cabins there, there's no fee to use the observation fields.
Check Out Missouri State University's Baker Observatory
Missouri State University's Baker Observatory houses powerful telescopes, primarily for lab work and research. But it also opens up to the public for free stargazing events. Due to COVID-19, events are canceled until fall, so check physics.missouristate.edu for dates.
Also read: More of best stargazing opportunities in southwest MO.


6. Get Lost in the Woods
Take the time to explore—really explore—the Ozarks by embarking on a trek through the woods on one of the region's countless hiking trails.
Have you ever been on a hike with a kid? They don't care how long the trail is, what the pre-planned payoffs and sweeping vistas are supposed to be, or what timeline their accompanying adults had in mind for the trip. All they care about is being in the moment. They look at the ground and the trees and the world around them, and they just take it all in. 
This summer, try to get lost in the woods the way a kid would, observing the flora and fauna around you—picking up bugs, running your hand down the bark of a tree, marveling at the sound of unseen squirrels skittering through fallen leaves, dipping your toes into the water. Then share your wonder with whomever you're with as you make Mary Oliver's "instructions for living a life" from her poem Sometimes your motto: "Pay attention. Be astonished. Tell about it."
If you're new to the wilderness and need tips for where to go, start with Little Sac Woods (pictured here), or search "trails" at 417mag.com to find lists of our very favorite places in the Ozarks to set aside the chaos of life for a day and just explore this beautiful place where we live.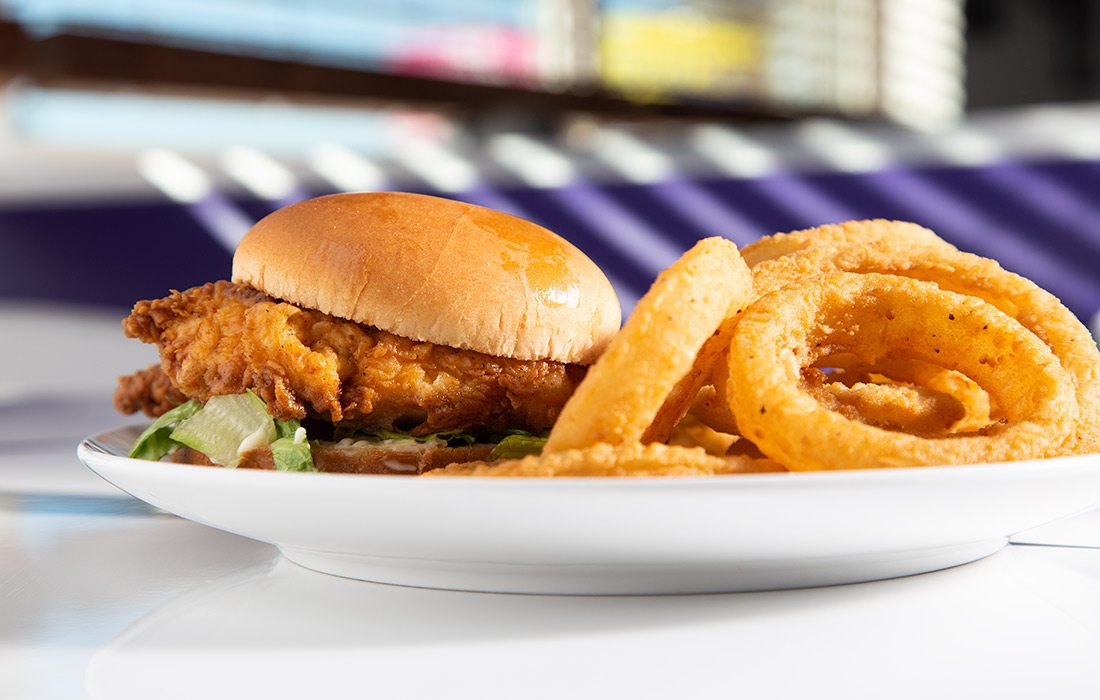 7. Nibble on Nostalgic Foods All Day
Plan a whole day of munching on the summertime tastes that remind you of childhood.
8 a.m.
Grab a donut, the "school is out and sugar is fine" breakfast of champs. St. George's or Hurts would be great places to start.
Noon
Slap a legit farmers' market tomato on some white bread with mayo and call it lunch. Check out five of the best farmer's markets in the Ozarks to purchase your perfect tomato.
3 p.m.
Sorry, but if you're not snacking on watermelon, you're failing summer. Again, see our list of five of the best farmer's markets in the area.
7 p.m.
Eat a juicy burger with a little history at the resurrected Red's Giant Hamburg along Historic Route 66.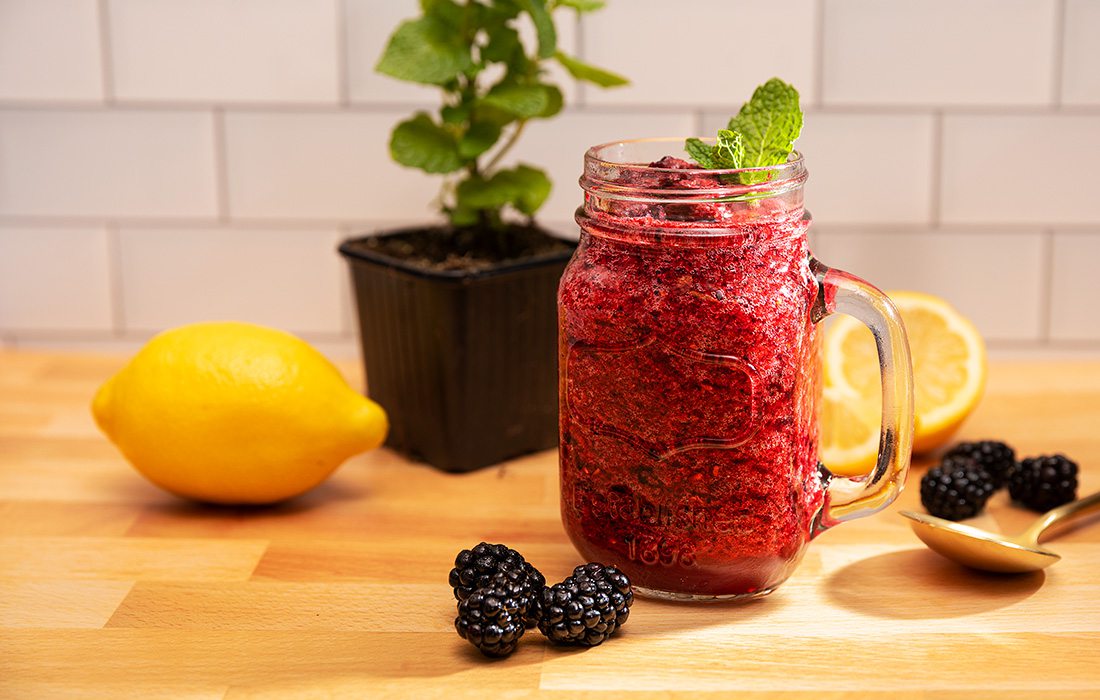 8. Go Pick Berries at a U-Pick Farm
(and turn them into a grown-up slushie)
Plucking a perfect ripe berry from the bush (and eating it while it's still warm from the sun) makes us smile. Adding gin to the mix, even more so. Check out our list of the best places to pick blueberries, blackberries and strawberries.
Serves 4

Ingredients
2 cups frozen berries*
1 cup ice cubes
2 cups lemonade
6 ounces Meadowview 
Botanical Gin 
mint to garnish

*We recommend blueberries and blackberries. Wash and freeze them at home for this recipe.

To Prepare
1. Puree the frozen berries in a blender. Add ice cubes to the blender and crush them.
2. Place 1/2 cup of lemonade and 1.5 ounces of gin in a cocktail shaker with ice, and shake until cold.
3. Add half cup of berry slush and half cup of lemonade-gin mixture to a glass, gently stir to blend, garnish with a sprig of mint, and serve.


9. Ride All of the Rides
Ready for a summer thrill? Check these local spots for their COVID-19 plans before trekking to your next fast-paced adventure.
Time Traveler at Silver Dollar City
Time Traveler is a thriller of a roller coaster, and it's not for the faint of heart. This speedy ride's cars spin as they fly down the track. Now, let's see if this time machine can hurl us back to 2019, amiright?
Skyscraper at The Track Family Fun Parks

At The Track Family Fun Parks, the 1-year-old thriller Skyscraper takes riders 170 feet in the air (in seats at the end of long propeller-like arms) as they spin at speeds of up to 60 miles per hour.
The Branson BuzzSaw at Branson Sawmill
This 123-foot-high swing ride lets riders spin through the air with a view of Branson. If spinning isn't your thing, The Branson Coaster is also on-site and offers a speedy downhill mountain coaster experience.
Fair Rides at Ozark Empire Fair
Barring any new changes due to COVID-19, this year's Ozark Empire Fair is scheduled for July 30 to August 8. Every year, the fair has plenty of rides, but the most thrilling are the spinning, stomach churning ones. Hop on if you dare.
Runaway Mountain Coaster at Branson Coaster
This harrowing ride weaves through trees on a hillside in Branson, and you control how fast it goes. Are you brave enough to go all out and let that thing fly down the mountainside? If not, that's okay. You can just ride the brake.
Kalaini Towers Drop Slides at White Water
Get some stomach-dropping thrills (that are also pretty refreshing thanks to all that cold water) on slides that hit 40 miles per hour and drop for 70 feet. Kalani Towers also has a mat racer if you're feeling a little bit timid. 
Bigfoot Super Sling at Bigfoot Fun Park
Ever wondered what it would be like to be the pebble in a slingshot, being hurled into oblivion? That's pretty much how this ride works. After being shot into the air, you spin and flip as you fall back down. It all sounds quite intense.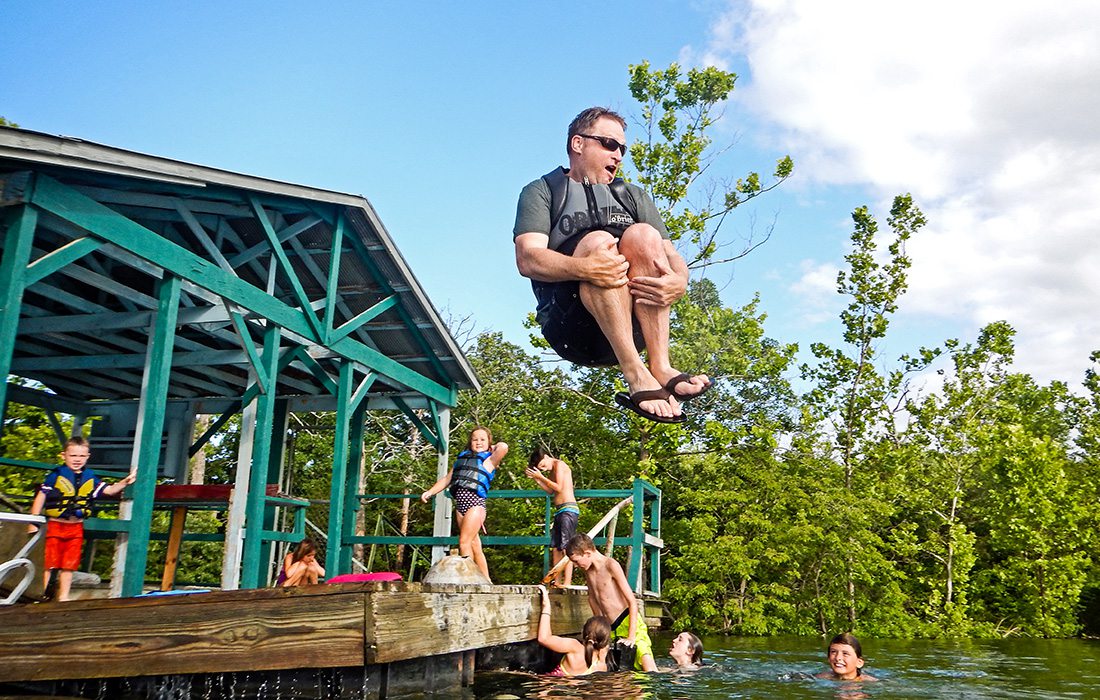 10. Cannonball Into the Lake
This summer, do your best cannonball into the waters of your favorite lake—because nothing is more carefree than a good swim that starts with a big leap.
Whether you're boating or just hanging out on the dock, you can't let summer pass you by without doing at least one fancy jump into the water. May we recommend our favorite jump, the one that requires you to hollar "Cannonball!" as you fly through the air?
Do you think that's kids' stuff? Do you think you'll look silly to all your fellow adults, who are wearing swimsuits so cute they don't even bother getting them wet and sipping on cocktails so strong they're better off staying out of the water anyway? Don't worry about them. They're missing out. Take our word for it: Don a life jacket, count to three, race to the edge, tuck those knees, and take off out into the cool water. Bonus points if you splash the naysayers.
If you want to practice your cannonballs from the side of a boat while you cove out, consider renting a vessel from one of the Ozarks's marinas. On Table Rock Lake, you can find some great options at Port of Kimberling, State Park Marina, Indian Point Marina and many more.
Also read: Your Guide to the Best Lake Getaways in Missouri.


11. Play Backyard Baseball
America's pastime is a summertime must. And if you can't go to a game or play with a full team, you get creative. Springfield local, Cory Patton, tells how his family created their own take on baseball—and still play it to this day.
I grew up in a family that had three boys. We liked playing sports and were a tad competitive, but  our odd number did not divide well into teams, so we found creative ways to play variations of sports we enjoyed.
Thus we created the game Move Up, a spinoff of baseball. Each player was the sole representative of their own team and would take turns occupying each of three positions: pitcher, a fielder and a batter.
Each batter would keep hitting until they received three outs, then all players would "move up" to the next position. The fielder would go to pitch, the pitcher would go hit, and the batter would go to the field.
We first started playing Move Up in our grandparents' yard, which was particularly narrow for a baseball diamond. The yard also came with one ground rule that we had to strictly adhere to: If you hit the house, you are out. On countless occasions one of our parents would come outside to sternly remind us of the rule.
We still play Move Up when our families get together. I enjoy playing the game with my nieces and nephews in my parents' backyard. They are still a bit young to keep track of scoring, but I have no doubt that we will be counting soon enough.—Cory Patton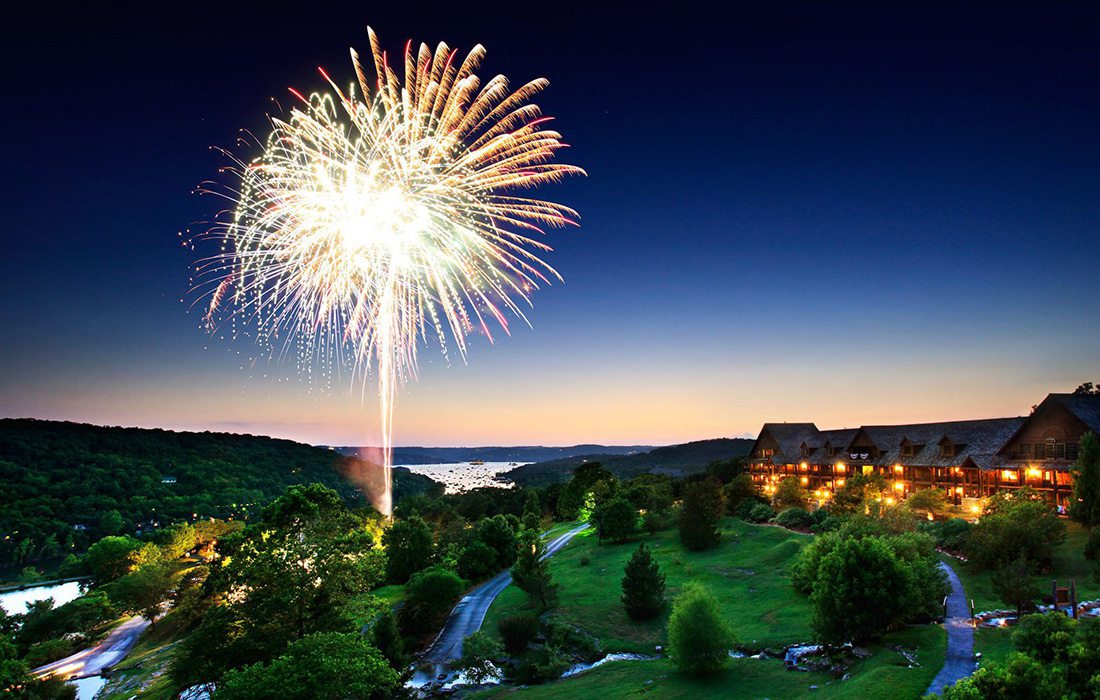 12. Ooh and Ahh at Fireworks
Keep an eye on this page to read about the best places in Springfield and the Ozarks to see the sky light up with fireworks shows this Fourth of July.


13. Go Camping in Your Backyard
This summer, sleep under the stars without the hassle of trekking to a campsite by pitching a tent in your own backyard.
Step 1: Break out that tent! If you don't have one, Ozark Adventures and Bass Pro Shops in Springfield can both hook you up with the gear. Don't forget to grab a lantern too! Read this story for all of our recommendations for where to buy camping gear.
Step 2: Prep your provisions. You're going to need snacks. Grab something sweet, something crunchy and something with a bit of protein. Be sure to get marshmallows. You'll need them for Step 3. Here are our recommendations for how to keep your camp snacks local and delicious.
Step 3: Build a backyard bonfire. Now you need flames to create ambiance and—most importantly—roast s'mores. Shop for fire pits at local shops such as Maschino's, Outdoor Home and Outdoor Rooms by Design.
Step 4: Listen. When you're ready to tuck in for the night, close your eyes and open your ears to the summer sounds of evening frogs and cicadas as you doze off. (P.S. We'll pretend there's no Step 5... that whole "clean-up in the morning" part.) 
Also read: 12 Great Places to Camp in the Ozarks if you'd prefer to get out of your backyard. Or, check out these places to go glamping.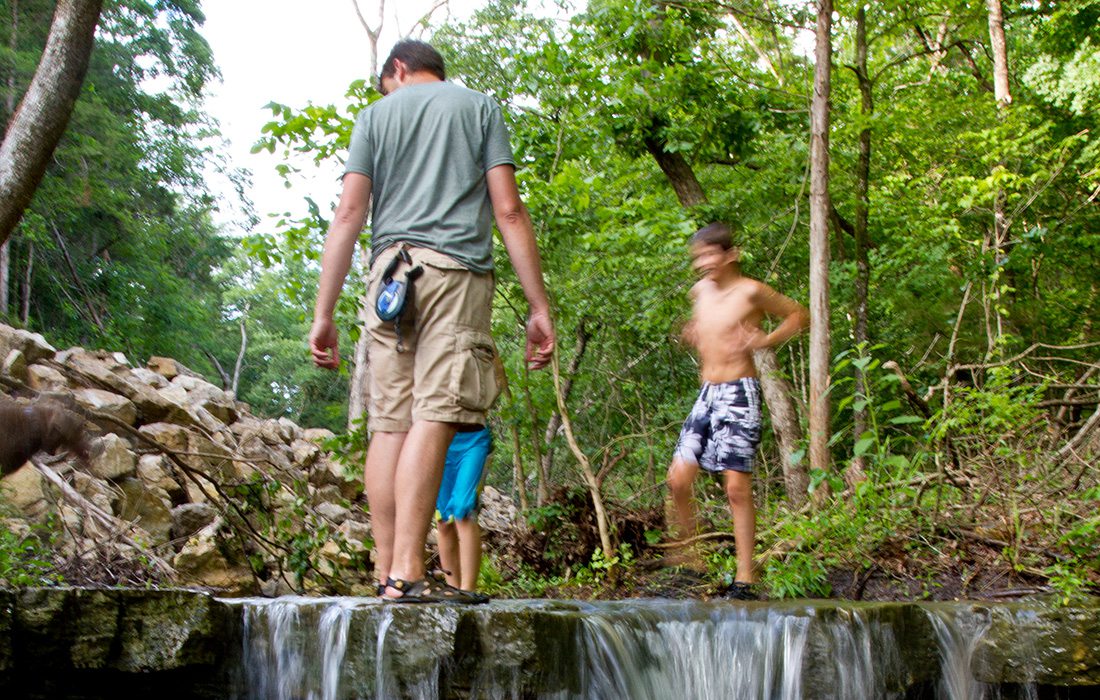 14. Catch Crawdads
The crystal clear creeks of the Ozarks are perfect places to turn over rocks and see what critters you can find.
Part of summering like a kid is facing your fear of the creatures you might find icky—picking up worms, catching fireflies and braving the sharp pincers of crawdads. The place to do that last one is in a local stream. Before you reach in to catch the slippery crustaceans, remember that these buggers swim backwards. Reach in from behind to avoid getting pinched and to have a better chance of nabbing one. First, though, you'll need to find a shallow place to start your search. Read about 13 local swimming holes that are great for wading and snatching up those little guys here. Just don't forget to release them again when you're finished.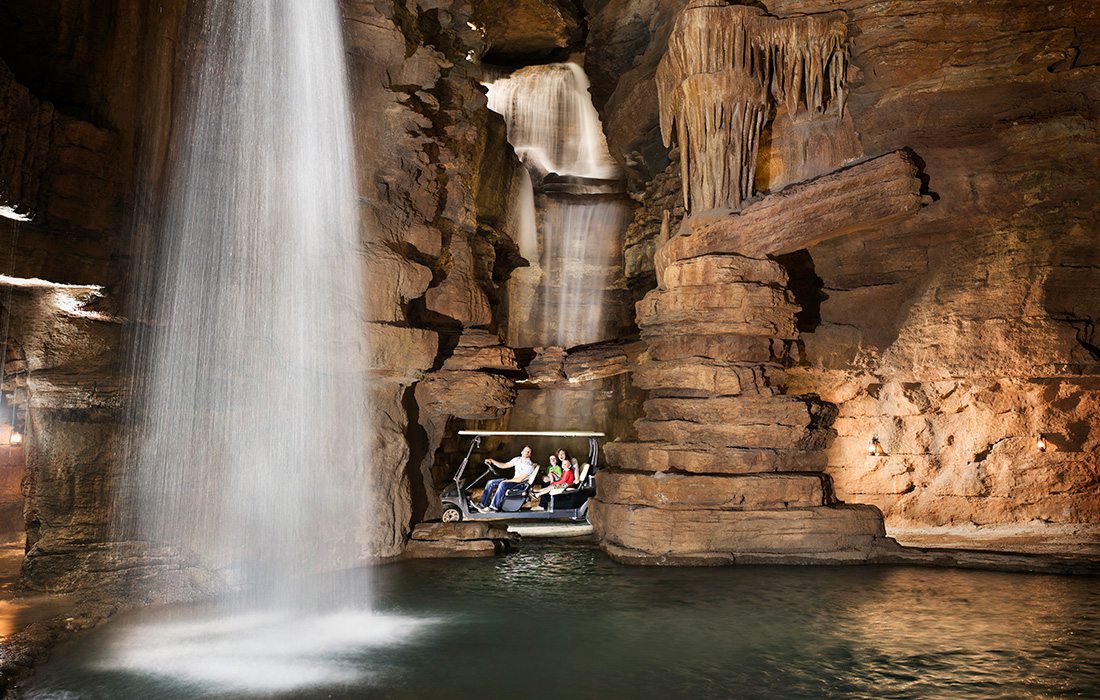 15. Cool Down in a Cave
You don't have to sweat the summer heat if you have cave exploration in your plans. Underground, it's usually around 60 degrees. Here are three places to observe some stalactites.
Lost Canyon Cave
A golf cart ride through the Lost Canyon Nature Trail at Top of the Rock includes a visit to Lost Canyon Cave. The big draw here is the Bat Bar, a bar located inside the cave that serves cocktails for grown-ups and cold lemonade for the kiddos.
Marvel Cave
In your rush to the rides at Silver Dollar City, be sure you stop for a walking tour of Marvel Cave—it's free with your park ticket. You'll see the Cathedral Room and gorgeous formations as you trek. But beware: There are a lot of stairs!
Fantastic Caverns
Here you'll take a 1-mile long, one-hour Jeep tour through a cave that holds some interesting Ozarks history in its sprawling caverns and beautiful formations. Your guide will tell you the story of its discovery as you go.