Features
The Best New Restaurants in Springfield and Beyond
New restaurants, menus and chef change-ups brought a lot of excitement to Springfield's dining scene this year. Work up an appetite and dig in to southwest Missouri's list of best new restaurants.
By Megan Dollar
Nov 2020
Choose Your Next Dining Adventure

If you're anything like us, you find comfort in new, tasty flavors. The sweet kiss of a good dessert, the warmth of a well-crafted sandwich, the uniting power of fresh cocktails—all of these things bring us comfort in uncertain times. So, we're lucky that southwest Missouri's food and drink scene has not backed down in the face of the COVID-19 pandemic. These new restaurateurs, bartenders and grocers took a leap of faith this year by opening their doors for the very first time. They trusted that the 417-land community would show up to support them, and they've done their best to help us enjoy their offerings safely whether it's through pick-up and delivery options, expanding outdoor dining options or limiting capacity to keep their diners socially distanced. And, on top of conquering the times, they've created some quite good grub that, hopefully, can comfort you into next year.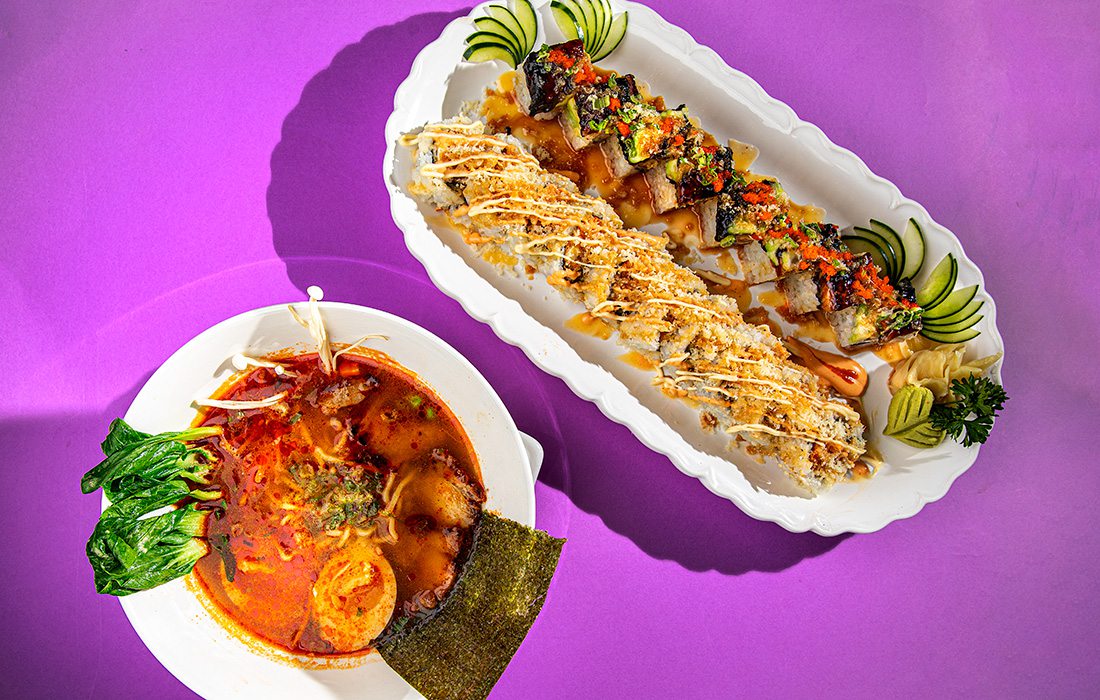 3938 S. Lone Pine Ave., Suite 100-B, Springfield, 417-851-1707

Opened June 12, 2020
Must Try: Niji Roll and Tan Tan Ramen
Backed with years of business-owning experience, both Michelle Huynh and her husband Ouyet Trieu decided to take on a new venture in 2020 and open up Springfield's newest hibachi and sushi joint: Niji Sushi Bar & Grill. 
"I like to see people happy," Huynh says. From the bright blue and white interior to the breezy patio located near Galloway Creek Greenway, Niji exudes happiness. 
The sushi spot opened on June 12 and, in addition to sushi and sashimi specialties, serves hibachi-grilled dishes and ramen noodle specials. A crowd-pleaser is the house-named roll, which has Japanese-style fried shrimp and jalapeño tempura, spicy crab, cream cheese and avocado and topped with crunchy little tempura pieces and Niji sauce. A few other favorites are the Jurassic Park Roll and the Galloway Platter, which features a variety of sushi, sashimi and nigiri. 
The food is a family affair, crafted by Huynh's brother-in-law Cong Trieu and modeled after the sushi dishes their own family enjoys together. And, more than anything, Niji is about people—both the people behind the restaurant and the people they serve. Huynh says that a full person is a happy person.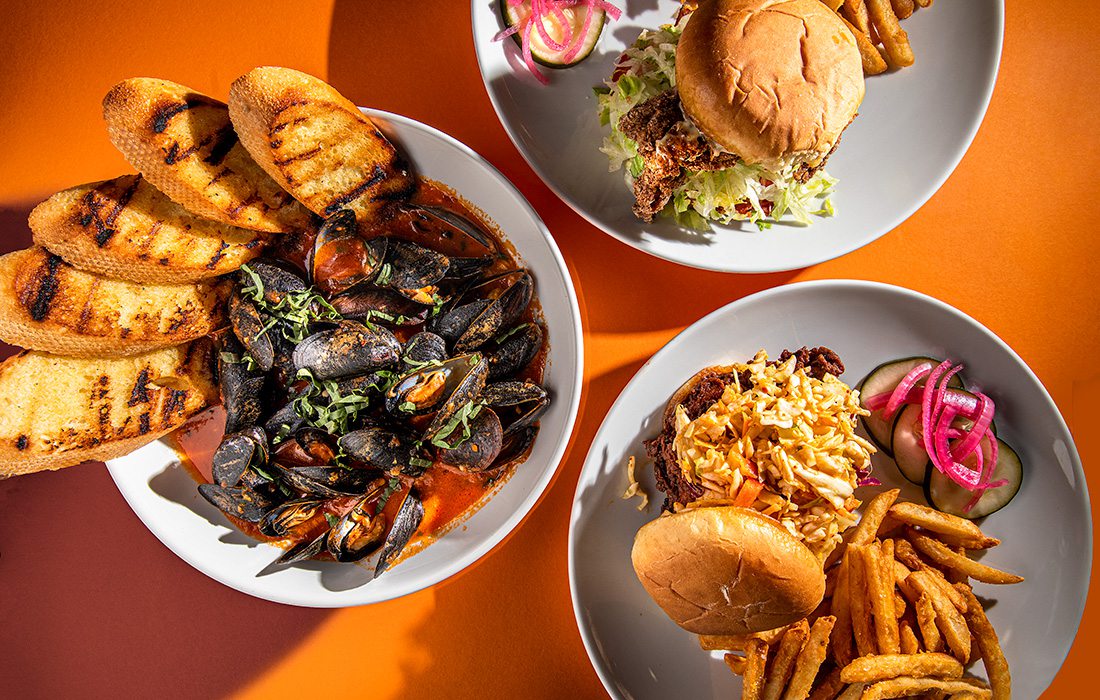 3027 E. Sunshine St., Springfield, 417-755-7155

Opened July 7, 2020
Must Try: Yoshi & Lace Mussels and The Maggie

After years of working behind Springfield bars and in local kitchens, Springfield restaurateurs Kristen Douglas and Dylan Collins have introduced their own dining experience: SPLIT Social Kitchen. They opened the doors to the humble, East Sunshine space in early July, where you'll find fresh, innovative and season-inspired dishes in a welcoming, casual atmosphere.
"We really value the integrity of our food," Douglas says, and it's made apparent in their menu. Take, for example, the Maggie, which Douglas says is a current customer favorite. It's a traditional, beloved BLT but amped up with deep-friend soft shell crab and garlic mayo—yes, please. Douglas said customers have also taken a liking to both the Chiliville Chicken Sandwich with Kimchi slaw and spicy gochujang mayo and the Yoshi & Lace mussels served in a garlic, white wine and tomato sauce. 
Almost everything about SPLIT, including these delicious recipes, is pretty nontraditional. Douglas and Collins are more than just co-owners, they're co-parents who split about five years ago, hence the name of the restaurant. "This menu is kind of a perfect blend of the two very different people that we are," Douglas says. "There's no theme, no rules and we just want everything to be next level." And, so far, they seem to be delivering something pretty next level.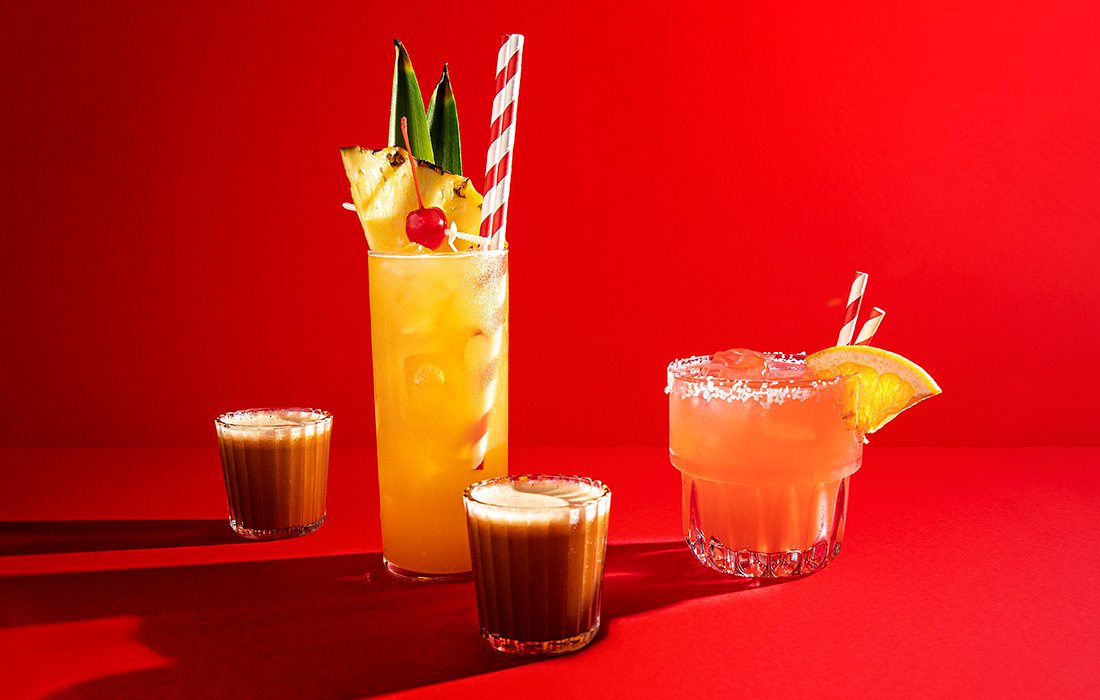 310 South Ave., Springfield, 417-719-4224

Opened June 19, 2020
Must Try: Salty Dog and Surfer on Acid
We already know them for Golden Girl Rum Club and Best of Luck Beer Hall, and now they're here to revamp your Friday night again. Joshua Widner and Rogan Howitt of Good Spirits & Co. are the masterminds behind Sweet Boy's Neighborhood Bar on South Avenue, and this time they've brought their friend Josh Sullivan of Fried Design Co. on board, too, so we know it's going to be a beautiful space. "We really just wanted to make a neighborhood bar that all of our friends would want to go to," Sullivan says. 
While the grungy décor and pinball machines exude dive bar, hang-out vibes, the menu says otherwise. Whether you're in the mood for a classic brew, a spunky cocktail or an exciting shot, Sweet Boy's has it. On par with the cocktail trends of late, their signature drink, The Salty Dog, is a cocktail on draft. It's a sweet and savory mix of grapefruit, raspberry and lime juices, gin and salt. It's kegged behind the bar and waiting for you to come get a taste. 
If you'd prefer to stay on the sweet side, might we suggest one of Sweet Boy's frozen Irish coffees? Choose from the standard, the minty SweetBoy, or the HellBoy that's topped with a Fat Boy Ice Cream Sandwich. But maybe save that for dessert after you grab a bite from Secret Sandwich Shop in back—more on that later. Sweet Boy's is the new cherry on top of downtown Springfield. Or maybe it's the ice cream sandwich on top?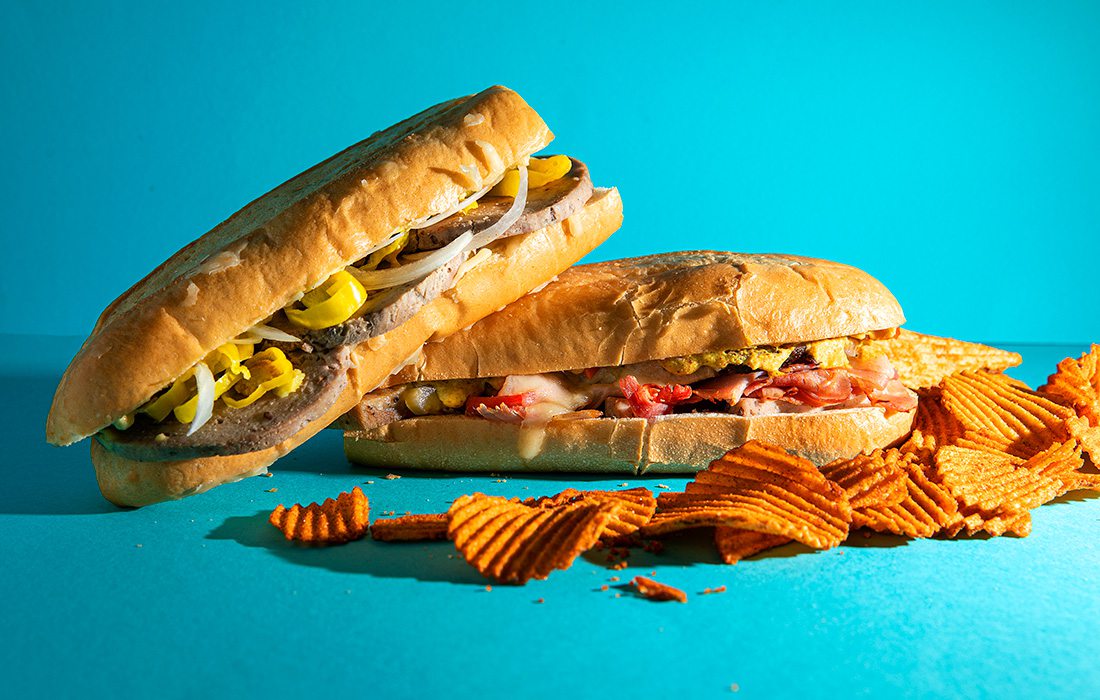 310 South Ave., Springfield, 417-865-9682
Opened July 15, 2020
Must Try: The St. Louish and The Eurbano
Before you indulge in one of those icy-sweet Irish coffees at Sweet Boy's, you should probably have a sandwich. Yes, a sandwich. Mack Musgrave, formerly Boulevard Brewing Company's Arkansas and Southwest Missouri market manager, opened up a little sandwich shop inside Sweet Boy's Neighborhood Bar in mid-July where he's conjuring up new subs Wednesday–Saturday. 
Musgrave says he left Boulevard when employees were on an amended schedule due to COVID-19, but the sandwich shop is something he's dreamt about for a long time. He runs the show with the help of his wife Allison, his mother Michelle Baird and their one employee, Lauren Richey. They're a small team running a mighty shop. It's an ingenious combination, a bar and a sandwich shop, and Musgrave's approach to sub-making is equally so. Their top-selling sandwich is the St. Louish, Musgrave says. "It's a sandwich born from many trips to St. Louis just to try all the best sandwiches we could find," he says. Aside from the obvious ingredient of St. Louis' famous provel cheese, the sandwich combines five other ingredients: a house-made pork terrine, shaved onion, pepperoncini and Dijon mustard. It's all served between two pieces of Cuban bread and toasted. Other crowd-pleasers are the Eurbano, a European twist on the classic Cuban, and the Madre, a house-made meatball sub with black garlic red sauce and, yes, more provel cheese. 
At this point, we're sure you're wondering how this sandwich shop can be "secret" if we know this much about it. Here's how: Each week, the team whips up a new creation, a "Secret Sandwich," and add it to the menu for a limited time, so there's always something new, and a little secret, to try. Musgrave says that opening the shop mid-pandemic has been tough and even scary, but they've been lucky to work alongside good partners and to have received community support. "I've dreamed of this for a long time, and I am so happy with my decision," he says.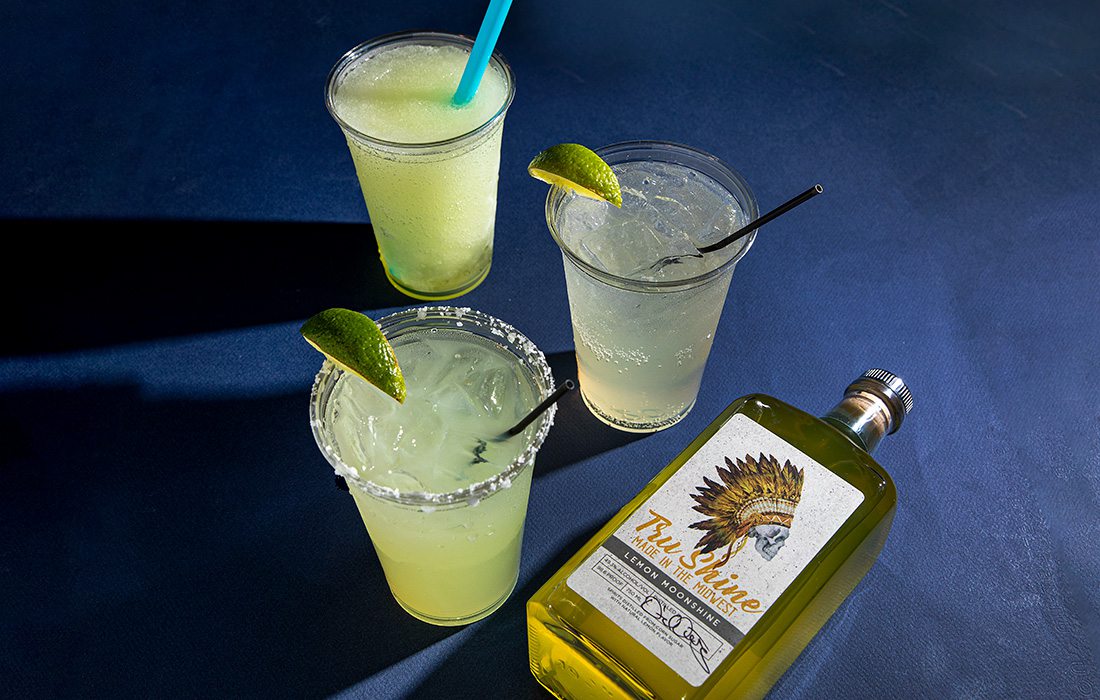 1846 S. State Highway 125, Rogersville, 417-581-0508
Opened May 19, 2020
Must Try: Moonshine Margarita and Moonshine Slushie
What started as a family hobby quickly transformed into a small business in 2017 when Spencer Detherage began distilling moonshine in small batches with the help of his father and head distiller David. Since then, Bub's Distillery's Tru Shine moonshine has been available for purchase at retail locations and farmers markets around The Ozarks.
Now, a new tasting room in Rogersville is turning the business into an experience. "It's a spot for everybody," says Detherage, "Another spot to come hang out and get away from the craziness." Originally set to open in March, the tasting room's debut was delayed about two months due to COVID-19 uncertainties, but Bub's is in full-swing now with plenty of homemade cocktails, live music and food truck fare. Head out east to Rogersville to enjoy one of Bub's lemon moonshine margs on the patio or a gin and tonic in the tasting room. 
Gin is the only liquor made at Bub's in addition to the signature moonshine, which comes in original, lemon and peppercorn flavors. If you happen to visit on a particularly warm day, or if you just enjoy ice-cold beverages, give one of Bub's moonshine slushiness a go. Slushie flavors change every week and come in varieties like lemonade, mai tai and blue raspberry—oh my! Or, sip on a moonshine and soda while you listen to live music and enjoy some eats from one of your favorite southwest Missouri food trucks like London Calling, Tinga Tacos and Chameleon Cuisine parked outside. All in all, Bub's a new spot to hang with our pals and enjoy what brought us to the Ozarks in the first place: good company, good nature and good nourishment.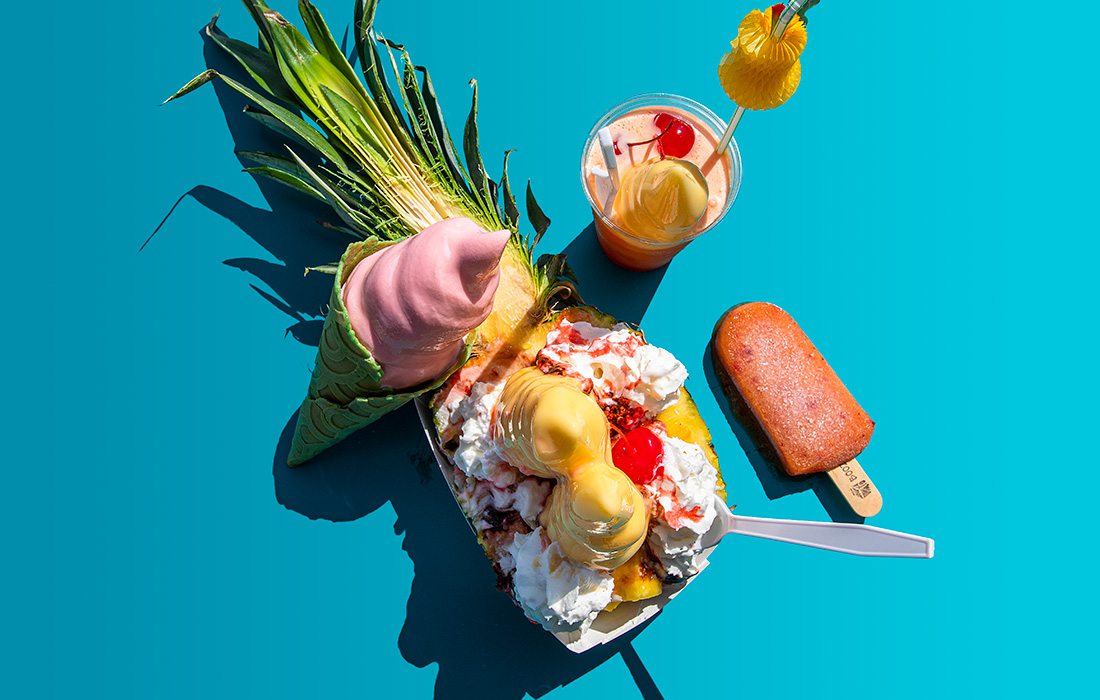 1021 E. 20th St., Joplin, 417-825-0795

Opened March 20, 2020
Must Try: The Bliss Float of the Day and Pineapple Bliss
Megan Escalante has been serving a range of fruity soft-serve around southwest Missouri for the past five years. But, in March of this year, what started as a bright aqua food truck decorated with larger than life pineapples transformed into a brick-and-mortar shop in Joplin. 
Pineapple Bliss is a slice of summertime that's now here to keep you feeling sunny and sweet all year long. Grab a cup of bliss and enjoy it under a grass umbrella on the social-distance-friendly patio or from the comfort of your car by taking a ride through the drive-thru. Escalante says these options have helped with the whole "opening a business during a pandemic" thing and allowed Pineapple Bliss to do better than expected. 
From a selection of more than 35 flavors, the bliss options rotate daily and can be enjoyed from a cup or cone, in a cookie sandwich or in a float. And, as indulgent as it sounds, it's actually not too hard on your health.
That was Escalante's main goal when she started Pineapple Bliss five years ago—to provide healthy dessert options for whoever may need it. So, she has nutrition information posted on Pineapple Bliss' website and printed on their menu, and they offer keto options, too.
If you've got a sweet tooth and nothing holding you back, go all-out with a pineapple split—a bliss flavor of your choice, chocolate and strawberry syrup and whipped cream served in half a pineapple—or by stacking the candy toppings high. If you're trying to be more of a conscientious eater, just grab a cup of the traditional Pineapple soft-serve. The experience is sure to be blissful either way.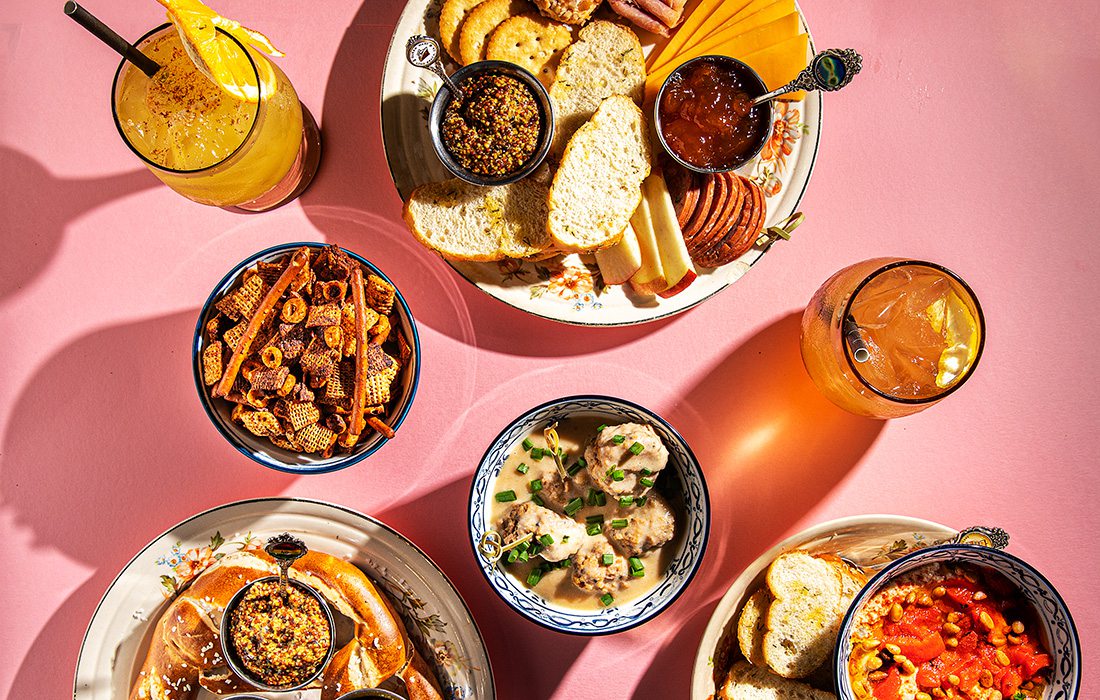 1427 E. Cherry St., Springfield, 417-351-3029

Opened June 26, 2020
Must Try: Point Judith and Soft Pretzel
When B.J. Lowrance dreamt up The Royal he saw an intimate, neighborhood music venue—the kind of place that would make you feel like you were at a house show. That's what he put together in a former gallery space on Cherry Street, where you'll feel like you're right back in your parents' basement (in the best way), thanks to a fusion of art deco and cottage core décor. 
But at The Royal, you don't have to worry about sneaking the booze, because they've got the good stuff ready for you. Two signature, seasonal cocktails, the Point Judith and Boy with Apple, are liquor and citrus-based concoctions enhanced with house-made syrups—orange spice and cinnamon, respectively. They've also got some fresh classics like a White Russian and Americano. And they've got the food covered too: pub munchies like chilled-out charcuterie boards, homemade Chex mix and soft pretzels. While Lowrance's ultimate goal is to host live music, he's making do and keeping his visitors safe during some not-so-typical times. He's got a nice patio that can be enjoyed through fall, and he's decided to showcase musicians virtually by streaming at-home performances at The Royal. 
Lowrance says The Royal is lucky to be located in a neighborhood as supportive as Rountree and, while the downtime is scary, it's given him some time to figure out what works best. "Plan for the worst, hope for the best," Lowrance says, which seems to be a pretty good mantra for starting a new business mid-pandemic.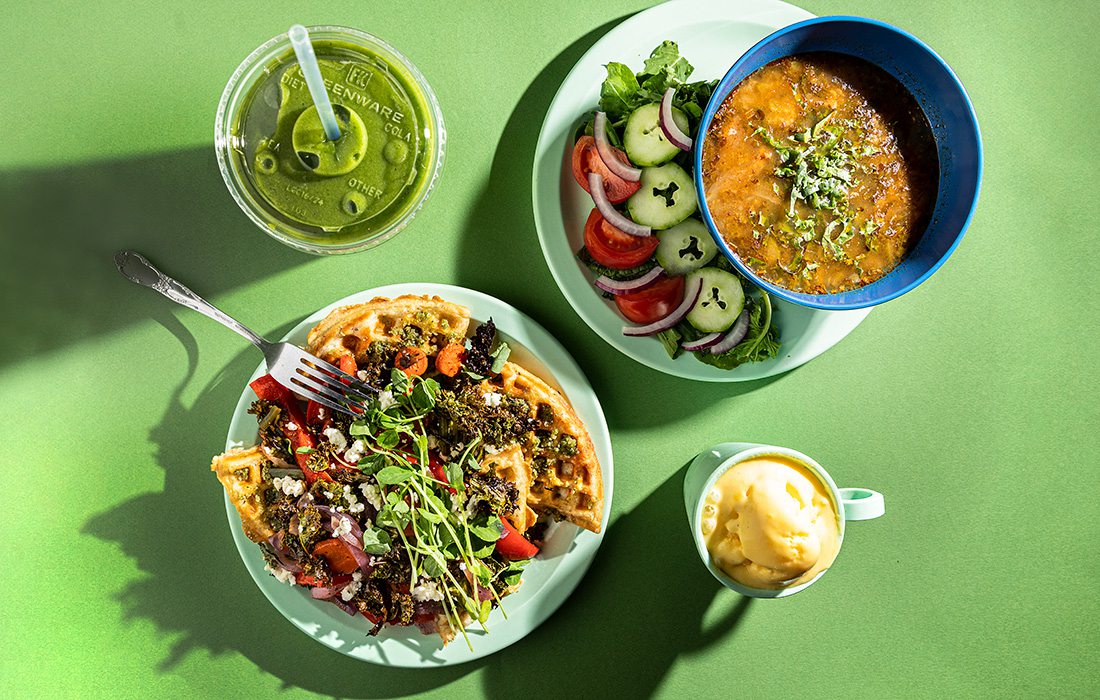 607 S. Pickwick Ave., Springfield, 417-720-1381
Opened June 2, 2020
Must Try: Sweet Potato Waffle with Garden Harvest Topping and Vegan Chocolate Ice Cream
What do you get when you mix organic coconut milk, agave and cacao? The best darn vegan chocolate ice cream you've ever tasted. Try it at Culture Counter, Springfield's newest cheery little grocer. Bryce Gott opened the shop at 607 S. Pickwick Avenue back in early June with a mission to connect people to the earth, and to each other, through food. The latter has proved to be a bit more difficult than planned, as the year is 2020 and connection is best made virtually. "It's been a trip," Gott says. "I'm looking forward to the future in whatever the new normal is." 
Mid-pandemic, though, Gott seems to be chipping away at his goal. In a community-focused neighborhood like Rountree, 417-landers have taken a liking to Chef Karen Brooks-Pender's build-it-yourself waffle bar and grab-and-go meal options. Whether on a small family outing or a socially distant get together with a friend, patrons indulge in one of Culture Counter's nutrient-packed smoothies, or enjoy a scoop of handmade ice cream. 
But Gott wants you to know that Culture Counter is much more than an ice cream shop. It's not actually an ice cream shop at all, they just happen to serve the treat. Navigate past the deep-freezer and help yourself to a variety of local and seasonal produce: shiny apples, colorful bell peppers, leafy herbs and even some delicate, edible flowers. You're sure to find everything you'll need to whip-up a nutritious and locally sourced dinner right at home. So go for the vegan chocolate ice cream, and stay for the fresh, local produce.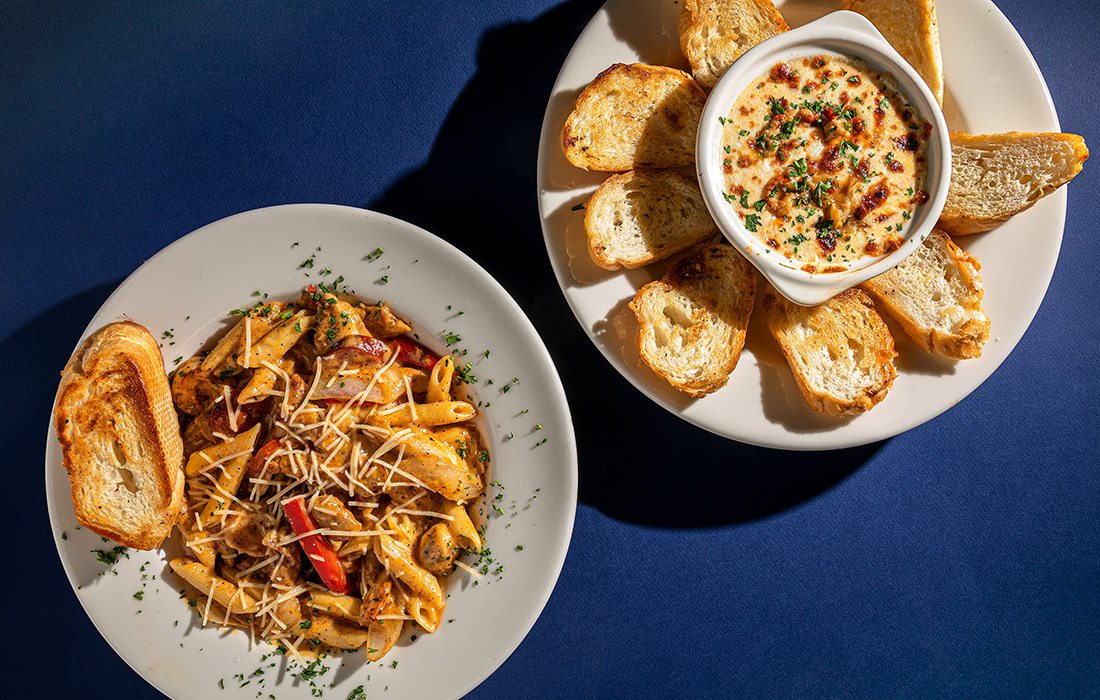 2639 S. Glenstone Ave., Springfield, 417-268-7266
Opened June 19, 2020
Must Try: Crawfish Au Gratin and Cajun Pasta Jambalaya
Bourbon and Beale arrived in Springfield in late June with the heat packed. The sports bar-like spot is dishing up a fusion of Cajun and barbecue, all made in-house. The kitchen is fit with a custom smoker so you know the BBQ nachos, chicken wings and brisket sandwich are fresh as can be. 
What really sets this newcomer apart is the plethora of Louisiana-style Cajun dishes on the menu: Beignets, gumbo, andouille—you name it. Ponciano Garcia, general manager and head chef, says the crawfish au gratin has been a crowd favorite. It's a creamy, homemade crawfish dip filled with Cajun spices—paprika, cayenne, dried herbs, and more—and smothered with crispy, melty, roasted mozzarella.
The Cajun Pasta Jambalaya has been another southern-style favorite, loaded with shrimp, chicken and andouille sausage, and topped with a creamy creole Alfredo sauce. The menu at Bourbon and Beale goes on and on, it'll satisfy any craving from fresh oysters on the half shell to slow-cooked BBQ chicken. 
Old Favorites, New Spaces
Some of our tried and true local favorites have opened their doors in a new space, upgraded their existing spaces or opened additional locations.
Grad School and J.O.B. Mashup
After shutting down temporarily during the stay-at-home order, Grad School and J.O.B. Public House came back with a bang by combining in the J.O.B. space on Walnut Street, serving select menu favorites and building a huge outdoor seating area for safe dining.

Better Block Patio at Druff's
A couple months ago, Druff's got the Better Block Springfield treatment. The organization built an outdoor patio space, so diners could enjoy their grilled cheese sammies and Prairie Pie slices in the sunshine on Park Central East.

Second Home of Billy Gail's
Billy Gail's has long been a breakfastime favorite at its original Branson location, and this summer it opened a second store in Ozark. That means Branson's neighbors to the north now get to partake without the drive. Oh yeah!

Exterior Revamp at Gilardi's
Gilardi's got a gorgeous exterior makeover this summer that includes a paint job, a remodel of the outdoor patio space and lots of charming details like new stonework accents on the building.
Brick and Mortar Upgrade for Skully's Ramen
Although ramen-loving foodies have long loved Skully's for their noodle-slinging food truck, we now get to enjoy it on Cherry Street too. The long-awaited brick-and-mortar location opened just a few months ago.
Outdoor Overhaul at Team Taco
When Team Taco closed down for a bit during the stay-at-home order, they used the downtime to start constructing a new outdoor dining space. Construction is still ongoing on both the east and west sides of the building, and we can't wait to see the finished product.
Expansion of Downing Street Pour House
Downing Street Pour House gained quite a following at its original home in Hollister, and this year a second location in Springfield opened in the former Jason's Deli space, bringing us their elevated pub grub.
A Beer Garden Upgrade at Tie & Timber Beer Co.
Tie & Timber Beer Co. created a stellar space to hang out with friends outside, with picnic table seating and lots of umbrellas to shade you from the sun while you sip a beer or listen to live music. It's one of several Rountree gathering spaces we love.
Past Best New Restaurants in Springfield, MO
Springfield now has a Korean barbecue place to call its own. Bawi Korean BBQ is a unique dining experience rich with culture and hands-on all-you-can-eat meat.
Downtown Springfield got its first barbecue joint in early 2018. But Wes Johnson and the Black Market Smokehouse team are serving more than just your average pork and beans.
In July of 2018, Greek Belly brought traditional Greek fare to Springfield. With an emphasis on freshness and an eye for quality, owner John Tsahiridis is all about keeping it quick and casual.
Young Jun's latest restaurant venture in Springfield is a buzzy ramen spot that hopes to change your perception of what the dish can be.
Little Danube
Editor's Note: Since the initial publication of the 2018 version of the "The Best New Restaurants in Springfield" article, Little Danube has closed. This spot offers diners a new experience, serving European food that ranges from creative flavor combinations to pure comfort.
Brews, booze and big plates collide at Roots Coffee Bar in west Springfield.
Social on Patton
Editor's Note: Since the initial publication of the 2018 version of the "The Best New Restaurants in Springfield" article, Social on Patton has closed. With a seasonally shifting menu of elevated American cuisine and inventive cocktails, Social on Patton is raising the bar for Springfield's fine-dining scene.
Rich and bustling Commercial Street continues developing into a cultural hub with Joe and Claire Gidman's ode to Dutch cuisine that's been warmly welcomed into the community.
Street-friendly fusion food truck The Wheelhouse is cooking up fresh new tastes in its fresh new brick-and-mortar inside Vib hotel, so you can settle in for a meal or tuck in for the night.